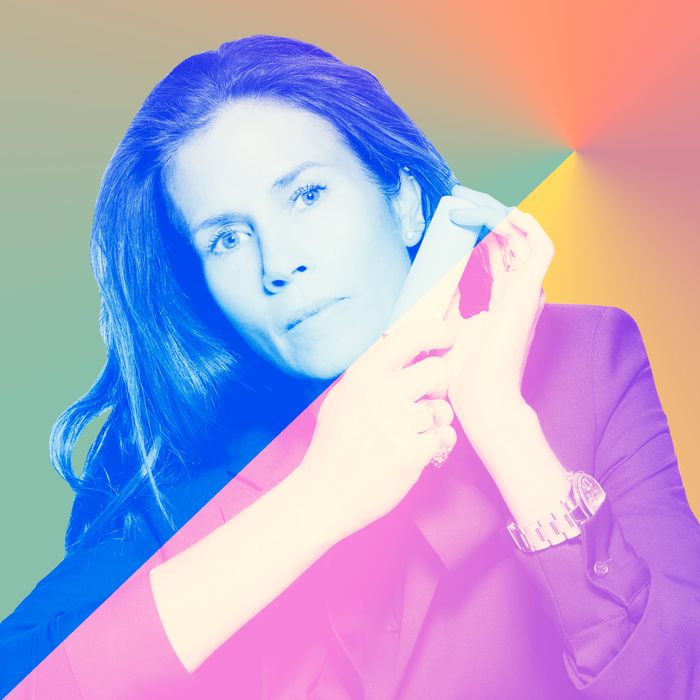 Photo: Courtesy of Westman Atelier
Gucci Westman wasn't born with the coolest name in the world, but she knew enough to make it hers. Chelsea was the name she was given, but Gurucharan was her ashram name (yes, she spent her first few years at one not unlike the one in Wild Wild Country). A family friend riffed on that one, shortening it to Gootchie, and it stuck. At age 9, she changed the spelling and made Gucci her legal name.
After graduating from high school in Sweden, Westman became an au pair to Swiss-French fashion journalist Anouk Ortlieb, who introduced her young mentee to the world of luxury fashion and beauty. Bit by the bug, she enrolled at Paris' Neo Christian Chauveau, then continued with special-effects makeup classes in Los Angeles, where she met the likes of Annie Liebovitz and Bruce Weber and started working with them. Weber told his friend Grace Coddington about Westman's touch, and she hired her for two shoots for Vogue.
"After that, I got very busy!" laughs Westman.
Soon everyone wanted to work with the makeup artist who could create dewy complexions like no other. A favorite of Oscar de la Renta, Hellessy, Brock Collection, and Rag & Bone (where her husband, David Neville, was a founder), she's also held artistic director posts at Lancôme and Revlon. Throughout all of this, she was hatching her plan for a brand that represented her signature looks as well as her clean-leaning formula ethos.
Enter Westman Atelier, a high-end makeup collection that launched earlier this year. Encased in matte pale-gray and watery-rose cases, the lineup of foundations, blushes, highlighter, and, most recently, makeup brushes epitomizes Westman's leanings toward flushed, moistened skin. A rosacea sufferer herself, she describes its gentle formulas as clean and consciously crafted beauty.
Westman spoke to the Cut about her weakness for pasta and a good glass of Barolo, her (almost) star turn on Sex and the City, and her facialist who cures everything.
Bath or shower?
Mostly showers.
Shampoo/conditioner of choice:
Rahua Color Full line — I love that it is plant-based but still effective. Also, Christophe Robin sea-salt scrub treatments are awesome for your scalp.
Most relied-on hairstyling product and/or tool:
My stylist, Milo. He does the best blowouts and is better than any beauty tool.
Body lotion of choice:
Pai body cream. Luxe and creamy.
Facial cleanser of choice:
Anything from Biologique Recherche and Sara Chapman's Skinesis Ultimate Cleanse — it's my go-to for removing stubborn makeup.
Scent of choice:
My first thought is always Cire Trudon — Madurai, Manon, and Solis Rex.
Favorite CBD product:
I'm really into the full range of Beboe products. They are so chic and calming. Right now, I'm stocking up on Dirty Lemon x Beboe + CBD.
Favorite scented candle:
Santa Maria Novella Pomegranate.
What beauty look do you just not get?
I have a personal aversion to the overly contoured, overly done "Instagram makeup look." Skin should look and feel like skin, so I stay away from this look.
What do you splurge on?
Facials from Georgia Louise or massages at my home from Namaste.
Where would you like to be living?
I always like the idea of the English countryside, but I might like the idea more than the reality, because I love New York.
Favorite location to travel to:
I'm not sure if I've been to my favorite location yet — I'm always exploring. But for now, I'd say South Africa, Paris, and Hawaii.
Bed linens of choice:
Parachute. Or anything from The Apartment by The Line. I could live in there.
Towel brand of choice:
Tenfold.
Work shoe of choice:
A Chanel boot. Always.
Casual shoe of choice:
Gucci loafers.
Netflix and chill outfit.
Askk.
Preferred fancy lingerie:
Hands down, Eres.
What fashion look do you not get?
I'll just never understand shoulder pads.
What fashion look do you struggle with achieving?
Shoulder pads … and patent leather.
Fashion item you would never wear:
I don't think you can ever say never.
What is the definition of ultimate decadence to you?
A super-luxurious hotel experience, pampering, spa, vineyard, and excellent food with your loved ones. Or sleeping in with no kids around.
Any random claims to fame?
I was in Sex in the City 2. But if you sneeze, you'll miss me.
Favorite outdoor activity: 
Skiing or horseback riding with my daughter.
Favorite podcast?
Here's the Thing with Alec Baldwin.
What phrase or word are you known for saying?
"Seriously."
Last great book you read?
I'm still reading it. 4 3 2 1 by Paul Auster.
What do you do or take when you can't sleep?
Hot bath, chamomile tea, and if all else fails, a big glass of wine.
Jet-lag cure:
Exercise or massage.
Cold cure:
Drinking hot liquid with honey or lemon.
Headache cure:
Pressure points and electrolytes. But really pressure points.
Hiccups cure:
Drinking water upside down.
Sadness cure:
My kids can always put a smile on my face. I also exercise to help release all negative energy.
Pimple cure:
A treatment from Georgia Louise. She cures everything!
What item stresses you out if you're running low on it?
Almond butter, almond milk, and blueberries.
Any job you regret not taking?
I couldn't go to Africa with Jay-Z for a project with Rocawear. I was newly pregnant and didn't want to get all of the shots required. The location was unreal and I love working with him. He's so funny and charming.
Describe your most starstruck moment:
Meeting Mohammad Ali.
What celeb would be your friend if only you two met?
Adele.
Most impressive measurement you take to minimize your carbon footprint?
I am always conscious of my transportation. In Sweden, you get fined if you leave your car running. Every country should have that rule.
Favorite Instagram:
@MyNewRoots, I can just scroll and look at recipes forever.
Favorite meal and where:
Oh my god, Il Barretto in Milan, their white truffle pasta. With a nice fat glass of Barolo.
Most impressive dish you make:
Spaghetti aglio.
Most recently binged TV show:
We loved Big Little Lies and Succession. But Friday Night Lights is my favorite TV show ever in the history of TV. If I'm feeling a little bit sick, I'll watch it in bed.
Favorite piece of furniture in your home?
My slinged leather armchair in my study. It looks a bit intimidating, but it's so comfortable and once you sit in it, you can't get out of it.
Yes, this is cruel, but what is your favorite product in your domain? (Sure, the answer can change, but what is it currently?)
The Atelier Vital Skin Foundation — it's so game-changing.
What do you foresee as the top beauty trends in 2019? And please explain why.
Transparency and accountability. We hold this responsibility, not only in the beauty industry but in all industries.
If you won the Powerball tomorrow, what are the first five things you would do? (After, of course, donating the majority of it to your top charities …)
Buy a house in Sweden for my parents, and one for each of my brothers; make a large contribution to AWF and NRDC; buy a Land Rover Defender for myself, pay off our mortgages, and buy a new Chanel handbag and jacket.