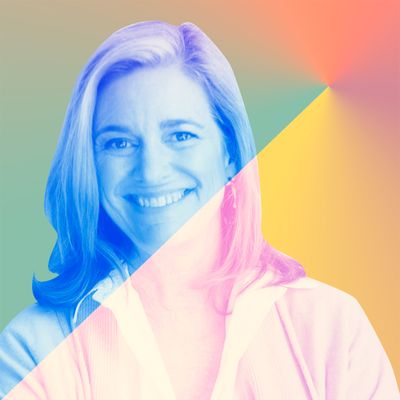 Hillary Peterson.
Photo: Courtesy of True Botanicals
Hillary Peterson had always practiced healthy living. A born and bred Californian, she was raised by a mom who had hippie tendencies, she exercised often, and her diet was loaded with vegetables that she brought home from the local farmer.
But at 33 she was diagnosed with thyroid cancer. It was caught early, fortunately, but she took it as a wake-up call. She became a devout meditator, shifted her diet to an antioxidant-rich one, and after listening to a particular piece on NPR about the connection between chemicals in personal-care products being absorbed into skin, began reading the ingredient labels of everything in her bathroom.
"There were all these endocrine disrupting chemicals in my products, and I thought, Okay. Opportunity for innovation," she remembers. "There's got to be a better way. I'm sure you can get just as good results without toxins. And that's what got me on this path."
That path led her to create True Botanicals, a clean, Made Safe–certified organic skin-care line. In its three short years, the brand has made fans of many a bold-faced name, including Inez van Lamsweerde and Olivia Wilde, who signed on last year as chief brand activist.
World domination seems to be what Peterson has in mind, although she phrases it a bit more, well, gently.
"Three years from now, I see True Botanicals as one of the top 100 beauty brands in the world. It will be the only brand in which every product is Made Safe–certified, meaning not just each product but each ingredient is certified safe for people on the planet. We will have accomplished our goal to inspire and empower women to take the best care of themselves and the environment. And in the process, change the industry."
Peterson spoke with the Cut about her favorite breed of rose, the joy of taking the ferry, and that time she hung out with Robin Williams, Lance Armstrong, and the Dalai Lama.
Bath or shower? Both, but I love baths. I use True Botanicals Nourishing Wash in the Grove scent, a blend of citrus essential oils that is totally invigorating and uplifting, first thing in the morning.
Facial cleanser of choice: Water in the morning and True Botanicals Clear Cleanser at night.
What, if anything, is usually on your lips? Hemp Organics Clear Lip Tint or Ilia Tinted Lip Conditioner in Arabian Nights.
What shade, if any, is usually on your toes and/or hands? Tenoverten in Jane (a neutral pink).
What beauty look do you struggle with achieving? I am still figuring out how to best style my hair.
Purse (or daily carryall) of choice: If I have events during the day that I want to look polished for, I go with the Clare V. Fabienne Cross Body. Otherwise, I stick with the Fjällräven backpack that my kids gave me.
Work shoe of choice: Calleen Cordero sandals in summer and Heschung boots in winter.
Casual shoe of choice: Bensimon velvet tennis shoes.
Watch of choice: Cartier French Tank.
Preferred fancy lingerie: Hanro.
Preferred daily underwear: Cosabella.
What fashion look do you not get? High heels. They look great, but I just can't do it.
Bed linens of choice: Boll & Branch.
Towel brand of choice: The Company Store organic towels.
Work icon: Malcolm Gladwell.
Podcast listener? Favorites? This American Life, Goop.
What phrase or word are you known for saying? This Joseph Campbell quote: "We must be willing to let go of the life we had planned so as to have the life that is waiting for us." I use it at home and at work all the time. Whenever my kids ask me something, I reply with that quote, and then they're like, "Why did I even bother asking?"
What drives you crazy? Clutter.
Toilet paper over or under: Over. I couldn't care less, but my husband does, so I'm like, "Okay, I know it makes you happy."
Last great book you read? Americanah by Chimamanda Ngozi Adichie.
What do you do or take when you can't sleep? Herbatonin 0.3 mg.
Favorite smell? A rose named Jude the Obscure that has this apricot-y smell. I planted a few of them on the path to my front door, and when I come home after a long day, I love being greeted by them — that scent is so luxurious and uplifting.
What do you think Pantone's color of 2019 should be? Orange. Not because of Trump, but because despite the challenges we all may be facing, the sun continues to come up every day.
What item stresses you out if you're running low on it? True Botanicals Clear Pure Radiance Oil. After using it for two weeks, it completely healed these stubborn bumps I had on my forehead, and total strangers started coming up and telling me how radiant my skin looked.
Describe your most starstruck moment: Meeting with the Dalai Lama, Robin Williams, and Lance Armstrong at the same time. I was in Idaho, staying at a girlfriend's home where Robin and Lance were also staying. It was just the four of us, and they had scheduled a private meeting with the Dalai Lama, and they asked if we wanted to join them. Of course we wanted to! Just to witness that conversation he was having with Lance and Robin? It was just nuts.
Who in your opinion is currently crushing it? My daughter Glyn. She just graduated from college and she has already published an article in Rolling Stone. She is living her dream of making a living sharing important stories, and I am so happy for her.
What are you working on mastering? Finding peace amid any circumstance. Life can throw a lot at you, and I am learning how to respond in the most healthy way possible.
Favorite part of the day: I get to take the ferry to work every day, and it literally is the best thing. I was dreading commuting from Tiberon to the city, but being on the water twice a day is such a grounding and uplifting experience.
What is always in your fridge? Avocados, tortillas, sweet onions. When in doubt, guacamole and tortillas are a perfect meal.
Most used item in your kitchen, appliance or otherwise: A device called the Alligator that cuts onions.
Favorite meal and where: La Super-Rica Taqueria, Santa Barbara, California — I get a vegetarian tamale and this roasted pasilla chile stuffed with cheese and marinated pork.
Where are you usually when the best ideas come to you? Hiking on Mount Tamalpais. I think the blood just goes right to your brain when you're hiking. But I need a better system because I never have a pad or pen with me, but I don't really want to, either.
What's the most impressive dish you make? Tarragon chicken, or my tortilla soup.
Comfort music: Joni Mitchell.
Most recently binged TV show: The Marvelous Mrs. Maisel.
What product in your domain is misunderstood and should be a best seller? Face oil. While a lot of people are catching on, many are still afraid of it, and it is truly transformative.
What do you foresee as the top beauty trends in 2018? Products for the body. Products made for aging skin have been heavily focused on the face, and the body is going to get more attention now. I also believe glowing skin and minimal makeup will continue to gain momentum.
If you won the Powerball tomorrow, what are the first five things you would do? (After, of course, donating the majority of it to your top charities.) I actually think that I would mostly keep doing what I am doing now. After my experience with thyroid cancer, I became extremely dedicated to living my "one wild and precious life" in the most meaningful way that I can. I don't feel like an influx of cash would change my decisions. Except, maybe I would hire a full-time personal assistant. That would be great.