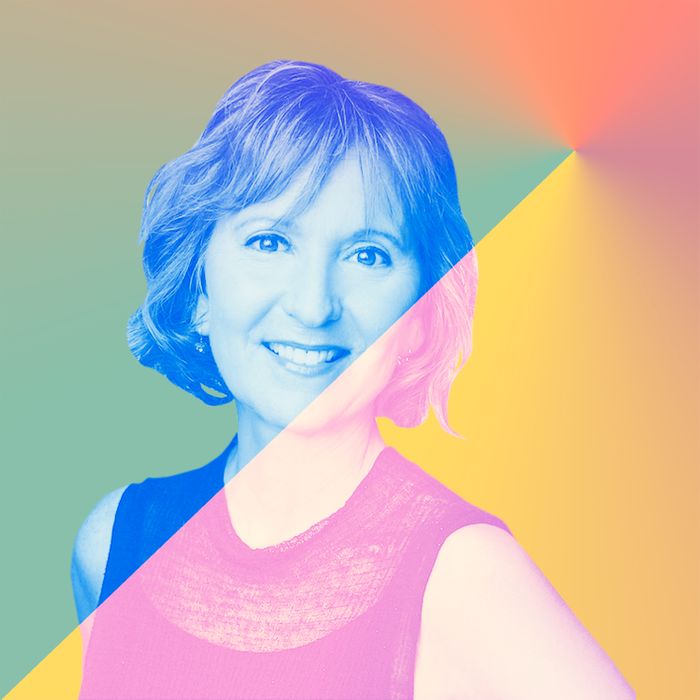 Photo: Original photo: Courtesy of Juice Beauty
Karen Behnke was a college student at Western Michigan University when a local chemical plant had mistakenly added the toxic fire retardant polybrominated biphenyl (PBB) to cattle feed.
"Suddenly, cattle were dead on the sides of the road," remembers Behnke. "We had our PBB levels checked on campus. This was a huge revelation to me. I went vegetarian because of it."
Post graduation, Behnke moved to the Bay Area, where at 22, she founded Get Fit Aerobics. Three years in, realizing that fitness was just one slice of the wellness pie, she set out to create an entire wellness company, Execu-Fit (now, PacifiCareWellness), which delivered medical screenings and fitness programs to corporations.
When Behnke became pregnant with her first child in her early 40s, she became obsessed with ingredient labels, which spurred her to buy the name Juice Beauty. Seven years later, she gave life to the name and created the natural, clean-based brand.
"I loved my wellness company, but I love Juice Beauty more. [It] was born out of a passion for wellness and a lifetime of organic living, so they're truly the roots of our brand," she says. "I feel that I can create change in an industry, so I'm taking this all the way."
In 2016, she brought goddess of clean living, Gwyneth Paltrow, on to collaborate on a makeup collection, later launching Goop by Juice Beauty skin care. "Gwyneth worked alongside me, our scientists, and our product-development team for several months, choosing all the packaging, the shade ranges, the final textures, and she also named all the products. She walks the walk." These days, she's focused on educating consumers about the often fuzzy and complicated language (formulations, regulations) of certified organic ingredients, a number of which will be harvested at the 20-acre farm the company has just purchased in Sonoma County.
"It's a former vineyard, with fruit and olive trees," expands Behnke. "The land is already the highest level of certified sustainable, but we're hoping to convert it to certified organic."
She spoke with the Cut about her crush on Cher and Julie Andrews, being hairstyling challenged, and how close she is to living a fully solar-powered existence.
Bath or shower? I love baths but who has time? Maybe now that I'm an empty nester, I will! However, I do make showers luxurious, too. I use Juice Beauty Green Apple Cleansing Bar.
Toothpaste of choice: Tom's of Maine and Weleda.
Makeup tools of choice: Jenny Patinkin vegan makeup brushes.
Most relied on hairstyling product and/or tool: John Masters hair gel to thicken. I work out every morning so I often show up at work with wet hair up in clips — it's not a lot of styling.
Favorite scented candle: I love Goop candles, particularly Edition No. 04, Orchard.
What, if anything, is usually on your lips? Funny, as at any given time in my purse I have at least three Phyto-Pigments Luminous Lip crayons, 1 Phyto-Pigments Lip Gloss, and all of our SPF Lip Balms.
What shade, if any, is usually on your toes and/or hands? Spa Rituals Clear on my toes and nothing on my hands.
What beauty look do you struggle with achieving? Rested and not jet-lagged.
Favorite location to travel to: Anywhere in Italy — my mother is Italian. The people are so warm and genuine, the food is amazing, the culture is terrific, the climate and views are great.
Bed linens of choice: Organic linens from Coyuchi.
Purse (or tote or backpack or daily carry-all) brand: Kate Spade right now.
What is your classic uniform? I'm so California casual, so I tend to throw on a black Armani T-shirt and a jean skirt.
Who was your idol growing up? Cher. She was so cool with that long straight jet-black hair and hip-hugger jeans. Given that I was born with jet-black straight hair, I tried to look like her clone.
Favorite outdoor activity: Mountain biking in the California Marin Headlands. We are so lucky that the trails start right at our house.
What phrase or word are you known for saying? "No time like the present!"
What word or phrase drives you crazy when others say it? "I'm not going to lie" or "If I'm being honest." I start on the premise of honesty so I have no idea why people feel the need to say that phrase.
What do you do or take when you can't sleep? Sometimes melatonin, but I have to admit I often turn on old reruns of Friends. Those episodes clear your brain.
Jetlag cure: A run and water.
Sadness cure: Kids and dogs!
What is always in your fridge? Organic everything — fruit, almond and coconut milk, eggs, veggies, kale, walnuts, and any kind of chocolate.
What room in your home are you most often found in? On our decks for the fresh air and the view. And usually on my laptop.
Go-to happy or workout song: Oldie: Journey's "Don't Stop Believin'" or anything by Bob Seger (I'm a Michigan girl!) but I love all Bruno Mars and Maroon 5 songs.
What do you wish you had invented? Tesla car, despite Elon Musk's problems right now.
What would you still like to invent? A completely solar powered eco-house that comes in factory pieces and is put together like a puzzle.
Where do you go when you need quiet? My solar powered, salt-water pool deck.
Where are you usually when the best ideas come to you? Running, hiking, biking, or swimming laps.
Name a few elements that your favorite day would involve: A wonderful workout with my husband and then a fabulous breakfast with our whole family.
Describe your most starstruck moment: At the Elle Women in Hollywood Awards when I met Julie Andrews. I almost plowed down Katie Holmes, Julianne Moore and a few other biggies to say hello and get a starstruck photo.
What celeb would be your friend if only you two met? In my dreams, Adam Levine. Yes, I have a crush on him as I love his music and his humor on The Voice.
Name a trait or talent you possess that few know about you: I'm a killer hula hooper and may have won multiple contests in college bars.
Who in your opinion is currently crushing it? Could Amazon get any faster?
Favorite meal and where: Breakfast at Comforts Café in my town of San Anselmo, California.
Comfort food: Chocolate.
Most impressive dish you make: Baked kale chips.
Most recently binged TV show: Billions.
What product in your company's domain is misunderstood and should be a best-seller? Phyto-Pigments Liquid Lip. These are amazing. They're super-bright pigments that glide on like a gloss but wear like a stain. I'm not sure our customers understand this product.
What do you foresee as the top beauty trends in 2018? And please explain why? Our time has come! Consumers are becoming super interested in natural. We go beyond natural by formulating with certified organic ingredients. It all comes down to Why not? If you can get high performance skin care and vibrant makeup, place healthful things on your skin, and support a sustainable company, then why not?
If you won the Power Ball tomorrow, what are the first five things you would do? (after, of course, donating the majority of it to your top charities…) I'd immediately go to an island with my husband and kids — maybe one I haven't visited, like the Maldives — for two weeks and exercise and chill out on the beach to think about next steps. Then I'd think about how I could grow Juice Beauty even faster worldwide. I would purchase a couple fun toys that match my values like a solar-powered pontoon boat to float around Lake Sonoma on near the Juice Beauty farm.
I would take the things I truly dislike (driving and styling my hair) off of my plate. I would hire a full-time driver to drive my solar-powered Tesla and have a personal hairstylist on-call every morning. Not only do I hate doing my hair, I'm also incapable. I'd love to take all of my employees on an all-expense paid trip to my favorite island in Hawaii, Kauai for a weeklong wellness retreat!