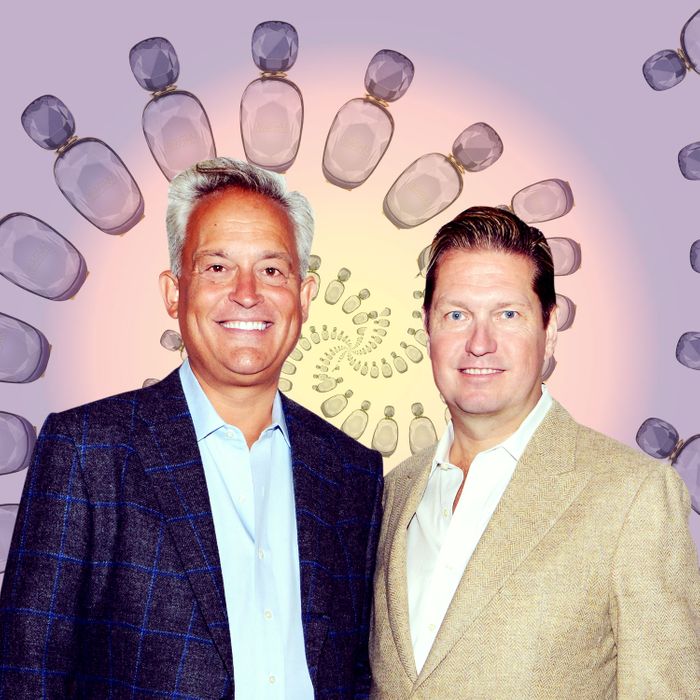 Mark Badgley and James Mischka.
Photo: Getty Images
Call it the Proust effect: Memories are often triggered by smells. Scientific studies confirm that out of all the senses, smell offers the best recall. In Scent Memories, the Cut asks people about the scents they associate with different times in their lives. Next up is Mark Badgley and James Mischka: the designing duo behind eponymous fashion label (you guessed it) Badgley Mischka. They are releasing their first fragrance to celebrate their 30th anniversary: A "lush and dewy floral" scent inspired by the magnolia trees on their property. The Cut spoke with Badgley and Mischka about saltwater, cashmere, and rusty tin cans.
My first scent memory is:
James Mischka: Cut grass and earth from rolling around on the hills as a kid.
Mark Badgley: Blankets.
Happiness smells like:
JM: Our dogs.
MB: Mine was the dogs!
JM: So it's Rommel, Whiskey, and Wally.
MB: They're our dogs.
Love smells like:
JM: Saltwater and tequila because we fell in love in Mexico.
MB: Vanilla beans!
Friendship smells like:
JM: Rocks in the sunshine.
MB: Cashmere.
Heartbreak or loss smells like:
JM: Hospitals.
MB: Smoke.
Regret smells like:
JM: Wet clothes.
MB: An empty, rusty, tin can.
Vacation smells like:
JM: Sunshine and lemons from the time we spent in Capri.
MB: Saltwater and rum.
Success smells like:
JM: A "new" old car.
MB: Evergreen.
Sunday morning smells like:
JM: Pool chlorine.
MB: Newspapers.
Monday morning smells like:
JM: The cork walls of our new office and coffee.
MB: Metals.
My home smells like:
JM: Basil, mint, and sage from our home fragrance.
MB: I'm gonna say ditto. I live in the same house.
A pleasant surprise smells like:
JM: An Hermès box.
MB: Warm leather.
If I could have one smell on my hands forever, it would be:
JM: Fresh magnolia blossoms.
MB: Eucalyptus.
I smell like:
JM: Shirt starch and shaving cream.
MB: Listerine.