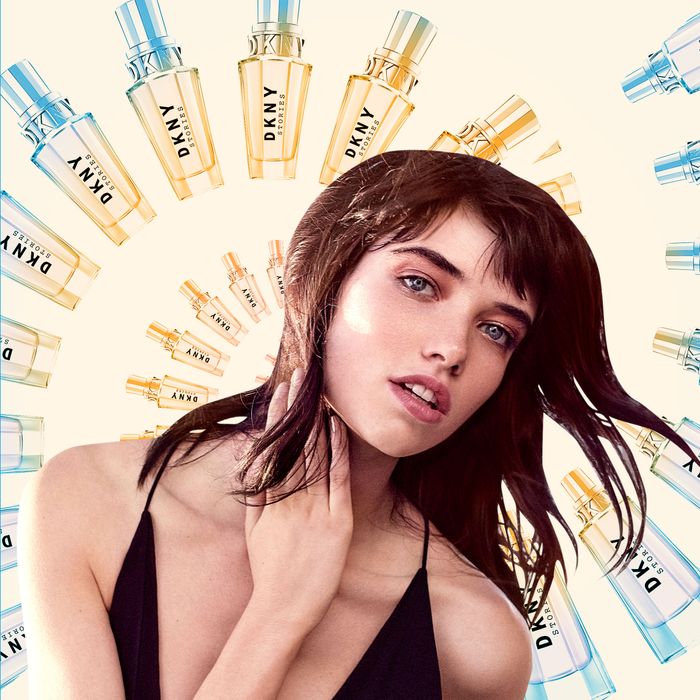 Photo: Gregory Harris for DKNY
Call it the Proust effect: Memories are often triggered by smells. Scientific studies confirm that out of all the senses, smell offers the best recall. In Scent Memories, the Cut asks people about the scents they associate with different times in their lives. Next up is Grace Hartzel: model and face of the campaign for the new DKNY fragrance, DKNY Stories. The fragrance is described as "an oriental floral with a modern edge," and features notes of pink pepper, jasmine, and sandalwood. The Cut spoke with Hartzel about turmeric, balloons, and tears.
My first scent memory is: Freshly cut grass and the flowers we had in our garden in Wisconsin.
Happiness smells like: Food! [Laughs] The smell of new cotton underwear. And fresh, new clothes.
Love smells like: A lover. Everyone smells so different. My favorite smell is just someone I love.
Friendship smells like: My best friend always wears really spicy perfume, she always smells kind of cinnamon-y and floral.
Heartbreak smells like: Salty, because there are usually a lot of tears. It would just be a salty, bad smell.
Regret smells like: Nail polish. Whenever I'm feeling nervous or recalling something I regret, I bite my nails.
Vacation smells like: I was just in Hawaii for vacation, so the ocean, honey, flowers, and sunshine.
Success smells like: Champagne and balloons.
Sunday morning smells like: Pancakes, maple syrup, coffee, books, and laptop. [Laughs] That laptop exhaust!
Monday morning smells like: A quick shower, coffee, and the metro.
My home smells like: Dog pee! [Laughs] No, that's just back home in Indiana. My home in Chinatown smells like the lavender and rose hip and eucalyptus oils I use in my diffuser.
If I could have one smell on my hands forever, it would be: Turmeric. I really like the smell of matcha, and I really like spices. I think maybe turmeric is my favorite, though.
I smell like: I've been told that I smell forest-y or earthy. My boyfriend just said I smell like "a little cherry." So we'll go with that.
If you buy something through our links, New York may earn an affiliate commission.