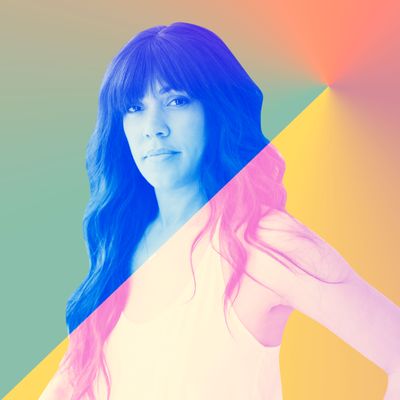 Photo: Photo courtesy of Shani Darden
For as long as she can remember, Shani Darden has been obsessed with all things skin related. "I just really enjoy getting blackheads out. I was into skin care from a really young age, like 8 years old," she laughs. "I should have known that that was my calling, but that didn't happen."
Supermodel dreams got in the way. The Plattsburgh, New York, native moved to Montreal to start modeling, and then an agent lured her to Los Angeles. "He said, 'We're going to make you the biggest star in the world," she remembers. "I had plans to be the next Naomi Campbell, but what I ended up doing was rap videos." She appeared in L.L. Cool J and Destiny's Child videos.
Her childhood obsession eventually pushed its way back up to the forefront, and she became an aesthetician at Kinara Spa. Then she met Jessica Alba. "I'd treated her for a while, then one day I said, 'I'm pregnant, and I'm not coming back.' She said, 'I'm pregnant, too!' Before that, we hadn't said anything to each other, other than, 'Hi. Do you want the red carpet peel?'"
The two became best friends, and Darden worked out of Alba's backyard. She eventually turned her home office into a treatment room, and Rosie Huntington-Whiteley and Emmy Rossum knocked on her door. Perhaps her vision board helped. "A lot of clients that I post on my vision board, I've ended up seeing. It's so weird," laughs Darden, who is also Garnier's Consulting Celebrity Aesthetician.
Come December, she'll be moving into a new work home in Beverly Hills. Shani spoke with the Cut about her gummy worm fix, her favorite place to get filler and why clinching a friendship with the cast of Queer Eye is just a matter of time.
Bath or shower?
Shower with Honest Body Wash.
Shampoo/Conditioner of choice:
Gloss Moderne.
Most relied on hairstyling product and/or tool:
I am never without my comb!
Facial cleanser of choice:
Garnier Sulfate-Free Cleanser. It's so gentle and great for all skin types.
Scent of choice:
Frederic Malle Carnal Flower.
Favorite scented candle:
Le Labo Santal 26.
What shade, if any, is usually on your toes and/or hands?
I always wear either Marilyn Merlot by Perfect Match or Fedora by CND.
Who cuts your hair?
Kristen Hasselbach does my hair at home, or I see Amanda Shuttleworth at Benjamin Hair Salon.
Where do you get facials?
I used to go to different places and get facials from everyone, but now no one will see me. The only one who will is Frankie Paige. She's awesome. I want facials from everyone — Joanna Vargas, Barbara Sturm, Dr. Nigma [Talib], Georgia Louise — I want to know everything, just experience them and get their opinion on my skin. But I also want a good facial!
We [facialists] should all support each other, but I've had people email me back, saying, "Sorry, we're in the same business, I can't give you a facial." And I'm like, "I'm not going to steal your moves!" At the end of the day, nobody can take away your clients. And not everyone is loyal. People like to experiment. You just have to try to not have your feelings hurt and realize that's how it is.
What dermatological treatments are you into?
I'm all for laser on your hands. I also had filler put in my hands and it made such a difference. I was really into it except for the pain. I almost passed out from it. I'm fine with my face and don't want to do stuff, but my neck and hands I would do.
Dr. Ourian injected my neck lines with hylauronic acid. I'm also really into the thread lift. I've watched it done and I think it's a really smart thing. Instead of injecting everywhere, pull it up. This is the most natural way of pulling things up, then it dissolves in your body. I'm into it.
What was your first beauty product obsession?
Retinol was my first obsession when I was young and struggling with acne.
Netflix and Chill outfit:
Denim cut-off shorts and a gray sweatshirt.
What is your classic uniform?
High-waisted jeans, mule slides, and a white T-shirt. I rotate between Re/done, AMO and Nation. A white T-shirt is my happy place.
Which celebrity would be your friend if only you two met?
I really want to be friends with everyone on Queer Eye. Especially Jonathan. I think we'd be really good friends. I'm going to put that on my vision board and make that happen.
What do you splurge on?
Other than lots of hair extensions, I splurge on interior designer Jake Arnold. Without him, I would be lost. After work everyday, I just want to rush home because I love what he did so much!
Favorite travel destination:
Hawaii.
Favorite sweet:
I'm obsessed with frozen gummy worms.
How do you stay fit?
I see Nichelle at CycleHouse.
Favorite podcast:
Hillary Kerr's Second Life podcast. I'm always so inspired listening to the stories of these amazing women!
Cold cure:
Erewhon's Immunity Shot always does the trick!
Sadness cure:
Spending time with my kids always turns my mood around.
What would you still like to invent?
A full skin-care line that contains all of the essential components for the perfect skin-care routine.
Last diet you tried:
Success? I have had the most success with Weight Watchers!
Most recently binged TV show:
Any of the Real Housewives … Always!
Yes, this is cruel, but what is your favorite product in your domain, and please explain?
(Sure, the answer can change, but what is it currently?) Texture Reform is my favorite product. It's a gentle retinyl palmitate serum that boosts collagen in the skin, smooths out fine lines and wrinkles, reduces hyperpigmentation, and helps to keep your skin clear. It's a true multi-tasker and I couldn't live without it!
What do you foresee as the top beauty trends in 2019?
There are so many procedures out there and people are doing way too much. I do think L.A. is showing signs of slowing down. There was a moment I thought that all these procedures would make facials obsolete, but now my clients are realizing that less is more.
People are getting away from filling their faces because they are looking crazy. Also, what does that do to you later? What are you going to look like? With filler, you're stretching your face — once you decide you don't want that, you don't look good.
If you won the Power Ball tomorrow, what are the first five things you would do? (after, of course, donating the majority of it to your top charities…)
I would split the money with all of my family members, buy a house to decorate again, because it's my favorite thing and make sure my kid's had a lot of money in their college fund!