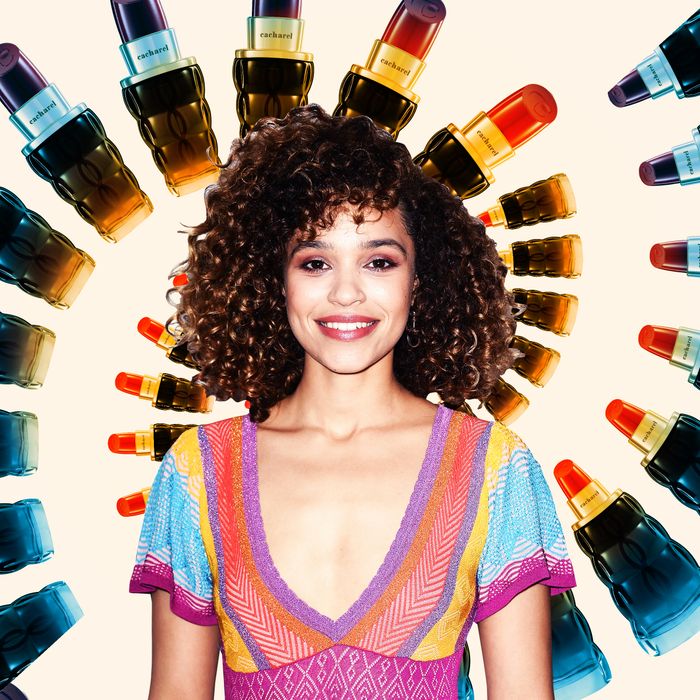 Photo: Gareth Cattermole/Getty Images
Call it the Proust effect: Memories are best triggered by smells. Scientific studies confirm that out of all the senses, smells and fragrance offer the best recall. Our feature, Scent Memories, will ask its subjects to talk about the scents they associate with different emotions and thoughts. Next up is British singer-songwriting Izzy Bizu, the face of Cacharel's Yes I Am. The fragrance and its lipstick-shaped bottle quickly catapulted to the No. 1 spot in France upon its launch last year. Last month, the spicy scent finally landed stateside. The Cut talked to Bizu about petrol, overripe bananas, and breaking lightbulbs.
My first scent memory is: The rosemary in the bushes outside my house. It grew wild outside our front garden. I'd come back from school, pick it, and my mum would put it in her cooking. She rubs it in her hands and smells it as well.
Happiness smells like: Lavender, cinnamon, and cardamom. My mum's favorite flower is lavender and she had this spicy tea she'd always make. She'd use that combination, a bunch of other stuff and then she'd put loads of sugar in the tea. It would smell amazing.
Love smells like: Spaghetti bolognese.
Friendship smells like: Tequilia.
Heartbreak smells like: Cigarettes.
Regret smells like: A broken lightbulb. Have you ever smelled a broken lightbulb? Me and my brother once got so bored; So bored. And I remember him just throwing a ball at me, like one of those plastic softballs and I had a baseball bat. I missed and hit the lightbulb and it smashed everywhere. It smelled, so bad. I felt so dumb, like why did I do that. It smelled really weird.
Vacation smells like: The sea, fresh mint, and lime.
Success smells like: It smells like petrol when you're walking down the street. Whenever something good happens, I'm usually walking down a polluted street.
Sunday morning smells like: Toast and chocolate spread.
Monday morning smells like: Morning dew.
My home smells like: Bananas, because sometimes I leave them in there for too long.
A pleasant surprise smells like: Cooking meat. Someone threw me a surprise barbecue once.
If I could have one smell on my hands forever, it would it be: Cardamom because I grew up with that smell my whole life.
I smell like: Coconut, usually. I use coconut oil for my hair and everything — sometimes I even use it as a highlighter on the cheeks because it stays for a while.
If you buy something through our links, New York may earn an affiliate commission.