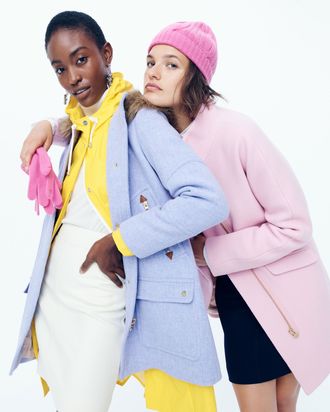 From the J. Crew outerwear campaign.
Photo: Courtesy of J. Crew
On the same day that its outwear collection dropped, J.Crew launched its second annual coat drive. So basically, you can drop off your old coat and pick up a new one in one visit to your local J.Crew. The drive goes until December 25 and is in partnership with One Warm Coat. Last year, J.Crew customers donated over 12,000 coats nationwide last year.
The gently used coats will go to people in need across the U.S. and in seven other countries. Anyone who drops off outerwear will receive $25 off a purchase of over $125. To entice you, let's look at the brand-new collection. Of course there are plaid peacoats, camel-colored cocoons, and faux furs. But there's also a fuschia knee-length jacket that would be perfect for a royal, a mint-green parka with a furry collar, and a yellow tweed that basically begs to be in your apple-picking Instagram. The candy-colored array is irresistible, and it helps to make sure your old coat is going to a good home too.