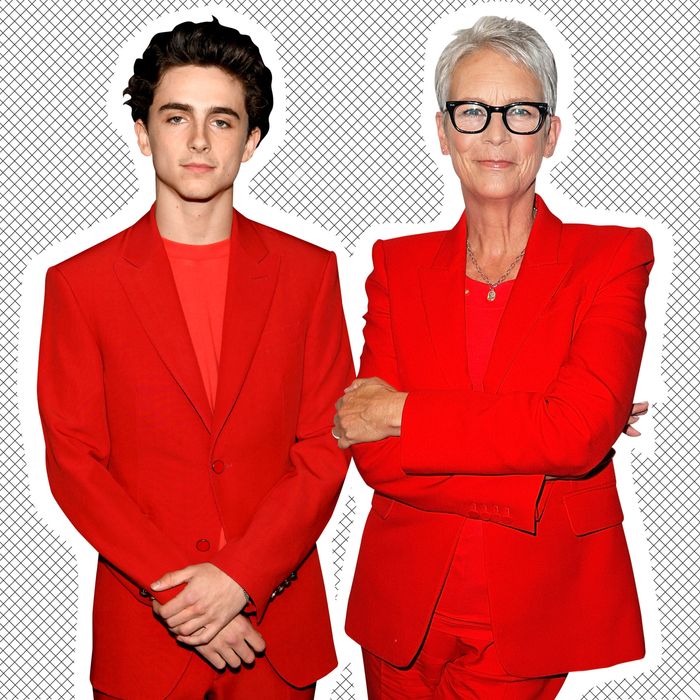 Timothée Chalamet and Jamie Lee Curtis.
Photo: Getty Images
We never thought we'd say this, but Jamie Lee Curtis and Timothée Chalamet have something in common. As "Page Six" pointed out, Curtis appeared on Good Morning America in New York City on Monday morning wearing a bright red suit with a matching red top. That same day, Timothée Chalamet also wore an almost-identical getup to the premiere of Beautiful Boy in Beverly Hills. If this weren't freaky enough already, October 13 is just a few days away. Coincidence? We think not.
Upon closer inspection, Curtis and Chalamet are not, in fact, wearing the exact same suit. His was designed by Virgil Abloh for the designer's spring 2019 debut at Louis Vuitton men's. And we're not exactly sure who designed Curtis's suit, but if you look at the lapel, it cuts straight across, while Chalamet's curves upward. Chalamet, being the beautiful boy that he is, also wore his suit with sneakers, while Curtis opted for red velvet heels.
Regardless, Curtis and Chalamet seem to be on the same wavelength, from their shared love of red suits (Gigi and Zayn got nothin'), to their hairstyles, to their poses on the red carpet. You might even say … that Jamie could call Timothée by her name … And she by his.
Jamie, Jamie, Jamie.
Timothée, Timothée, Timothée.