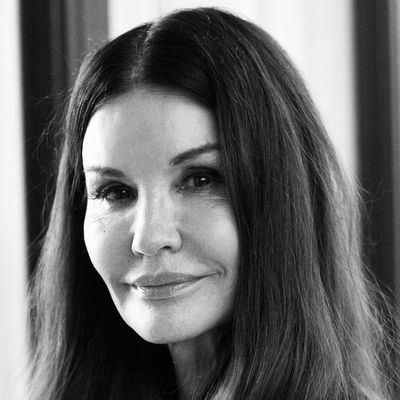 Janice Dickinson.
Photo: Mark Makela/Getty Images
In an essay for Variety, Janice Dickinson writes about watching Bill Cosby get sentenced to prison, what the decision meant to her as a survivor of rape, and why she laughed when he was sentenced to three to 10 years after being found guilty of the 2004 sexual assault of Andrea Constand.
"I saw Cosby laughing at trial while I testified, and then again at his sentencing," Dickinson writes. "At the recess just before the announcement of the long-awaited sentence, I saw him look at me. I let out an explosive emotional laugh. While other victims wept, I laughed and said, 'Who's laughing now?'"
Dickinson is one of the nearly 60 women who accused Cosby of assault, and one of the 35 who told New York about her assault in 2015. She took the stand in April to testify against him, recounting how he allegedly raped her in 1982.
Dickinson also explains why it is so hard for women to come forward after they have been assaulted. She lists all the things women risk when they make an allegation or come out as survivors of sexual assault: "Years ago and surprisingly, even now, victims are intimidated. Intimidated because we know we will be shamed and called a liar or a slut, that we will get hate mail and threats, that telling a new boyfriend will probably end that relationship, that our children and family will look at us differently, and maybe they won't love us, and that we will be labeled."
She connected her own experience to watching the Senate hearings for Supreme Court nominee Brett Kavanaugh, and spoke in disdain about the men on the Senate Judiciary Committee who defended Kavanaugh. "They are counting on you being intimidated by victim shaming. These men are cowards and are complicit in the assaulter's crimes."
Dickinson ended her letter with a plea to mothers and sisters, asking that they talk with their sons and siblings about consent and boundaries.
"Men seem not to know when they must stop, and many are too chicken to ask for consent. So they assault. Don't do it, don't say it and don't even think it. They need to be told how to ask a woman."