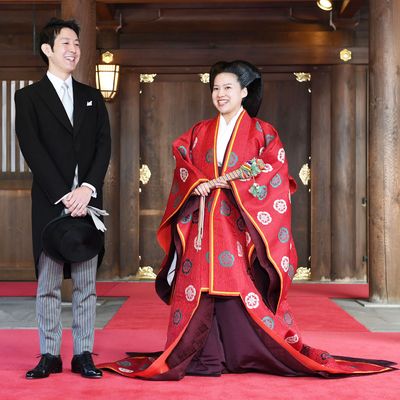 Kei Moriya and Princess Ayako.
Photo: JIJI PRESS/EPA-EFE/REX/Shutterstock
Apparently true love really does conquer all — or at least in the specific case of Japan's Princess Ayako, it trumps one's claim to a royal title. On Monday, Ayako officially relinquished her royal status after marrying her sweetheart (a commoner).
Princess Ayako, 28, is the youngest daughter of Prince Takamado and Princess Hisako, and just the latest woman to leave Japan's dwindling Imperial Household. Per Imperial House Law, women lose their royal title and allowance if they decide to marry someone who does not have royal or aristocratic family ties. (The rule does not apply to male members of the royal family.)
On Monday morning, Ayako followed her heart. In a Shinto-style wedding ceremony attended only by members close to the families, Ayako married businessman Kei Moriya, 33, at Tokyo's Meiji Shrine, which is dedicated to the divine souls of Ayako's great-great grandfather Emperor Meiji and his wife, Empress Shoken.
"I am awed by how blessed I am," Ayako said following the ceremony. "I will leave the imperial family today, but I will remain unchanged in my support for his majesty and her majesty."
Moriya, told reporters that he thought his wife looked "beautiful" in her traditional ceremonial gown, adding that he "would like to support her firmly and, hand in hand, build a happy family with lots of laughter."
Ayako's marriage comes just over a year after Japanese princess Mako of Akishino officially announced that she would be leaving the Imperial Household to marry her college boyfriend, Kei Komura. While the couple decided to postpone the wedding due to "immaturity" this past February, both princess's engagements — and Emperor Akihitio's announcement that he will abdicate his post on April 30, 2019 — have aggravated the new concerns about a shortage of heirs to maintain Japan's 2,000-year-old Imperial bloodline. Imperial law says that only men can ascend to the throne, and once Akihitio's son Crown Prince Naruhito ascends to the throne, there is only one more heir, his 12-year-old son Prince Hisahito, to carry on the royal line.
There has been discussion about changing laws so that women can inherit the throne, but Japanese government officials have generally avoided the issue.