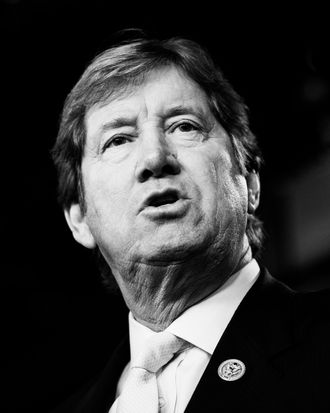 Jason Lewis.
Photo: Bill Clark/CQ-Roll Call,Inc.
Representative Jason Lewis, a Republican from Minnesota, once mocked women who felt "traumatized" after being subjected to unwanted sexual advances. Audio of the comments, which were made on his former radio show in November 2011, was published by CNN on Friday.
During a 2011 broadcast of The Jason Lewis Show, his syndicated radio program that ran from 2009 until 2014, Lewis spoke of sexual-harassment allegations against Herman Cain, who was running for president at the time. CNN notes that Cain had been accused of having an affair and harassing employees while serving as president of the National Restaurant Association, and that Cain reached settlements with two women who accused him of harassment. (Cain denied the allegations.)
In a clip from the program, which you can listen to on CNN, Lewis — who was elected to Congress in 2016, and once also lamented on his show that people can't call women "sluts" anymore — can be heard asking how women be traumatized by such behavior. Per CNN:
"I don't want to be callous here, but how traumatizing was it?" Lewis said. "How many women at some point in their life have a man come on to them, place their hand on their shoulder or maybe even their thigh, kiss them, and they would rather not have it happen, but is that really something that's going to be seared in your memory that you'll need therapy for?"




"You'll never get over? It was the most traumatizing experience? Come on! She wasn't raped," Lewis added, using a voice mocking an emotionally distraught woman.
Lewis is currently up for reelection to the House of Representatives — in an extremely close race in Minnesota. CNN reports that attorneys for Genesis Communications Network, which produces Lewis's program, sent a "cease and desist" letter over its use of the audio clip, but CNN is citing the "fair use" doctrine in order to use the recording.