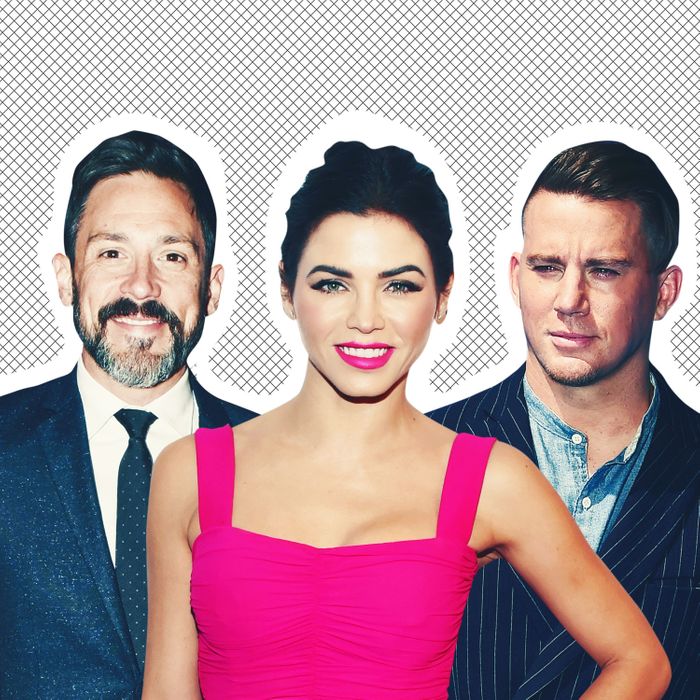 In the wake of their recent divorces, two famous women have found new boyfriends who are just as, if not more-so, attractive than their exes. Last week, Us Weekly told us all about Jennifer Garner's cute new CEO boyfriend. And this week, the tabloid has another exclusive, on actress/dancer/TV personality Jenna Dewan's first relationship since she filed for divorce from Channing Tatum.
According to Us Weekly, Dewan has started dating Steve Kazee, a 43-year-old Broadway and TV actor who looks like this:
The two were spotted making out at the annual Casamigos tequila Halloween party this past weekend, and they also attended a haunted hayride together with friends in L.A. You can see the two of them together at the hayride here:
People reports that Dewan and Kazee have "been dating for a couple [of] months and she's really happy." As for "things to know" about Kazee, he won a Tony award for his performance in the musical Once, and he's appeared on Shameless and Nashville. He previously dated the Broadway actress Megan Hilty for six years (they broke up in 2012). And he looks like this:
A source tells E! News that the couple met through mutual friends and "hit it off right away. Jenna really likes him and is very happy. She has completely moved on from her marriage and is happy to have met someone new. Steve treats her very well and is doing everything right. She's hopeful about the future, but not getting too far ahead of herself."
Dewan's soon-to-be ex-husband Tatum, meanwhile, has been dating the British singer Jessie J. E! News reports that he attended her concert in Houston this past weekend. Fun!
So how are things going with Jennifer Garner and her new boyfriend, John Miller? Great, thanks. Us Weekly reports this week that Garner is "head over heels in love" with Miller and that the relationship has gotten "very serious." People, meanwhile, insists that the relationship is "not serious," but that Garner "enjoys his company." For what it's worth, Us Weekly got the exclusive on the relationship, so People could just be sour about the whole thing. Either way, no one is denying that Garner and Miller are together.
For those who missed the news last week, a refresher on Miller: He is 40, he went to law school at Stanford, and he is the CEO of a company that makes robots that make burgers. (I think.) He is still legally married to his estranged wife, the truly amazing pop violinist Caroline Campbell, but the two are reportedly in the process of finalizing their divorce.
Garner and Ben Affleck finalized their divorce earlier this month, and they remain as friendly as they've ever been: They took their kids to see game four of the World Series over the weekend. Us Weekly reports that Garner met up with Miller after the game. When are we going to get a paparazzi shot of these two?
One small blessing from this week:
Hilary Duff had her baby, and she named her Banks.
And here's an interesting blind item from this week, care of Enty at Crazy Days and Nights:
"Apparently this foreign born A-list mostly television actress says she and the celebrity she calls her boyfriend are waiting until they are married to consummate their relationship. Someone was asking her what the sex was like which is when she gave this answer."
Finally, I'll leave you with these photos of Jude Law getting out of a car to go to his daughter's 18th birthday party. Have a safe and happy Halloween, everyone!
Thanks so much for gossiping, and don't forget to send me a message on Twitter, or contact me on Signal, if you'd like to chat.