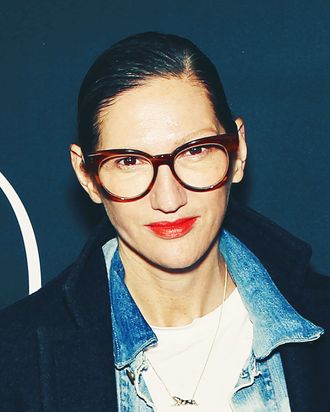 Jenna Lyons.
Photo: Marion Curtis/StarPix/REX/Shutterstock
Since stepping down from her role as executive creative director of J.Crew, Jenna Lyons has spent the past 18 months enjoying the free time she never had.
"Having nothing on my calendar has been the most incredible luxury," she recently told the Times. "I have taken naps. I have had ice cream for breakfast. I have had a doctor's appointment and then been able to walk the 40 blocks home, just soaking up the city. I have caught up on reading. And I have been saying no to everything. It has been great."
Lyons's leisurely sabbatical is finally coming to an end, though. As WWD reported on Tuesday, she will be returning to fashion in 2019, only this time as the leader of a new weekly lifestyle series and curated direct-to-consumer platform. In partnership with Turner Entertainment, it seems she'll be combining her affordable-yet-tasteful eye for interiors, fashion, and beauty all in one place for you to shop.
"We want to try something new," Lyons told WWD of her multimedia platform. "I want to build a story-driven, comprehensive resource for anyone to satisfy their personal style and help them make aesthetic choices."
The details may be vague now, but we'll always trust Jenna Lyons's direction.