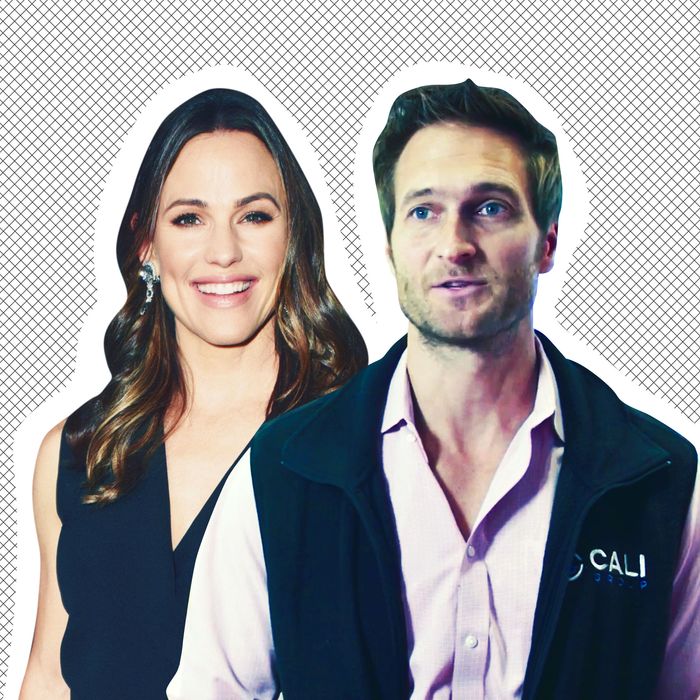 Photo: Getty Images, NEC America/Youtube
Well, thank God: Jennifer Garner has a new boyfriend. Us Weekly got the exclusive and made it the cover story this week. "AT LAST! JEN MOVES ON," screams the cover line. "In Love With a Regular Joe!" The "regular Joe" is John Miller, a 40-year-old California businessman who graduated from Stanford Law School. He is the CEO of the Cali Group, which is … a robotics company and also a burger chain? The robots make the burgers, I think. And you order via facial recognition software — yikes! Here's Miller talking about it earlier this year:
As you can see, he's cute and a little staid, which seems right for Garner at this moment. She finally finalized her divorce from Ben Affleck earlier this month, so now's the time to roll out the new guy. According to Us Weekly, Miller and Garner have been dating for six months, and he's met her kids, so it's relatively serious. And here's a little drama: Miller is still legally married to his first wife, Caroline Campbell. Us Weekly says Miller and Campbell split in 2014, and that they're just waiting for a judge to sign off on the divorce paperwork. (That this detail was included in the story shows that Garner probably signed off on the cover and provided some information; otherwise, Us Weekly could have gone with "JEN: IN LOVE WITH A MARRIED MAN!")
This is not really relevant to the story at hand, but I thought you might want to know a bit about Campbell, because I started researching her, and now I'm obsessed. She's a concert violinist who does sexy pop routines! Here she is performing with celebrity composer David Foster in 2014:
Incredible.
Anyway, Garner and Miller: they're happy and in love. And Affleck is totally fine with it, per Us Weekly. "He will always be supportive of any decisions she makes and ultimately just wants her to be happy," a source tells the tabloid. Affleck is currently working on a new movie about a basketball player dealing with addiction issues (hmm) and not seeing 22-year-old Playboy model Shauna Sexton anymore. Congratulations to all.
In slightly less exciting celebrity relationship news, Karlie Kloss went ahead and married Josh Kushner last week in a Thursday-night ceremony somewhere upstate. Taylor Swift was not there. But plenty of the couple's rich socialite friends were: David Geffen posted a photo from the wedding featuring professional celebrity friend Derek Blasberg, manager to the stars Scooter Braun, and Garage magazine founder Dasha Zhukova.
Kloss's new family members Ivanka Trump and Jared Kushner were also in attendance: Trump posted a congratulatory Instagram after the wedding.
Kloss does not follow Trump on Instagram.
So which celebrities will get surprise-married next? According to People, Orlando Bloom is thinking about proposing to Katy Perry. (Did you forget they were together? It's okay; they've broken up and gotten back together a lot.) A source told the tabloid earlier this week that Bloom "is ready to settle down with Katy. She hasn't put any pressure on their relationship lately, and everything is just easy. Being with Katy makes Orlando very happy. In the past, he seemed so scattered and unwilling to settle down. He is like a new person now and everyone is excited for him."
Great! Orlando Bloom is 41 years old.
I still think Chris Pratt is the celebrity most likely to propose this year: He just finalized his divorce from Anna Faris this week, and he's been doing pap strolls with girlfriend Katherine Schwarzenegger again. This past weekend, Pratt and Schwarzenegger were photographed at dinner with Pratt's 6-year-old son, Jack, and Schwarzenegger's mom, Maria Shriver.
And Schwarzenegger is becoming more of a public figure in her own right: She guest co-hosted The Talk this week and has been posting all kinds of spon-con on her Instagram. (Current follower count: 253,000.)
One small blessing from this week:
Mary-Kate Olsen's phone background.
And here's an interesting blind item from this week, care of Enty at Crazy Days and Nights:
"This former A-list mostly television actress from back in the day who is doing reality now split with a boyfriend a few months ago after she put some of his clothes through a paper shredder before the shredder broke. She then put a bunch in an oven to set them on fire. Why? He said she was crazy. She said I will show you crazy."
I cannot wait for The Hills reboot.
Finally, I'll leave you with this photo of newlyweds Justin Bieber and Hailey Baldwin house hunting in L.A. According to People, Bieber and Baldwin are interested in buying Demi Lovato's $9 million mansion in the Hollywood Hills — the same home where she overdosed in July. I know celebrities buy each other's houses all the time, but this seems like a strange place to honeymoon.
Thanks so much for gossipping this week. Don't forget to email me at allie.jones@nymag.com, send me a message on Twitter, or contact me on Signal if you'd like to chat.