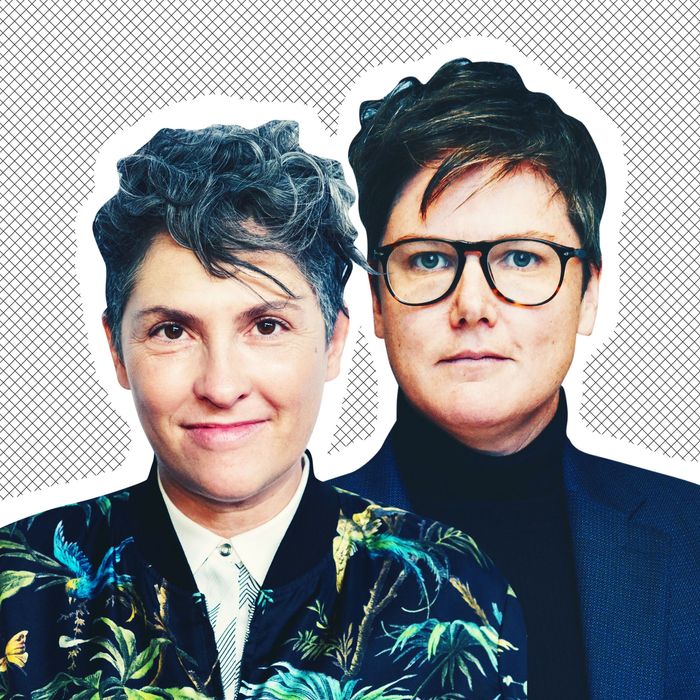 Jill Soloway, Hannah Gadsby.
Photo: Shutterstock, Getty Images
Hannah Gadsby, the boundary-breaking stand-up comic behind Nanette, and Jill Soloway, the creator of Transparent and writer and director of I Love Dick, are now dating, according to "Page Six."
Per the report, the couple has been together since this summer and have been getting increasingly serious. The source told "Page Six" that Soloway recently went to Australia to meet Gadsby's family. They have been traveling together on a press tour for Soloway's new memoir, She Wants It: Desire, Power, and Toppling the Patriarchy (which has been stirring up a fair share of controversy on the internet). The book's dedication says "for Hannah," and she is also thanked in the acknowledgements. After telling "Page Six" about the couple, the source added that they don't want people to know they are a couple, saying they are "very private."
Soloway was married to music supervisor Bruce Gilbert until announcing their separation in 2015 and coming out as nonbinary and gender-nonconforming; Soloway then went on to date poet Eileen Myles, after meeting Myles on the set of Transparent.
On Tuesday, at a TimesTalk at the New School, Soloway described reaching out to Gadsby in a search for "queer, intersectional, interesting folks to speak to about book writing" for their Amazon imprint, Topple Books. After then watching Gadsby's Netflix stand-up special, Nanette, Soloway described being "so blown away."
"We had breakfast the next morning … and became friends after that," Soloway said. "We realized yes, we both have a lot of things in common that we like to talk about that generally annoy other people."
"I think it overwhelms people," Gadsby interjected. "It was nice to meet someone who in the course of small talk, you are talking about consent."
Soloway added, "Rage, patriarchy, consent before the coffee comes."