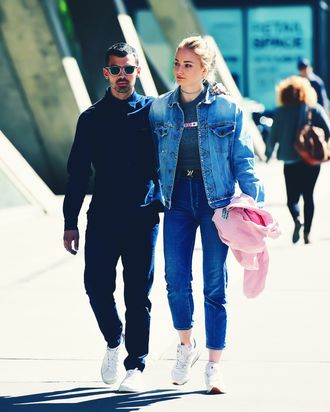 Joe Jonas and Sophie Turner.
Photo: Raymond Hall/GC Images
In a total Pete Davidson and Ariana Grande move, Joe Jonas and Sophie Turner got inspirational tattoos as a sign of their (hopefully) enduring love.
The New York Post reports that the engaged couple visited tattoo artist Mr. K. and Bang Bang parlor in New York City this weekend, where they got matching ink. On Jonas's wrist are the words "To infinity," and on Turner's wrist is "& beyond," with a tiny, delicate spaceship. Either the lovebirds are big fans of the Pixar classic Toy Story (the original) or they simply feel like their love is limitless. Given tattoos' permanence, hopefully it is!
While this isn't the first time Jonas, 29, and Turner, 22, got tatted together (they visited Mr. K. this past July to get tattoos for their grandfathers), this is the first to pay tribute to their love for one another.
If they are to follow in the footsteps of Gravidson, it won't be their last.