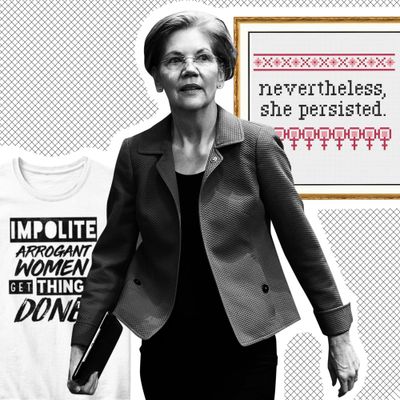 Photo: Getty Images, LittleandLittle/Etsy, teespring.com
The latest man to call Elizabeth Warren names is White House chief of staff John Kelly, who said Warren was an "impolite arrogant woman" in a private email that was exchanged last year and was recently obtained by BuzzFeed News.
After a phone call with Warren about Trump's travel ban in February 2017, he wrote to a top aide that it was "[a]bsolutely [the] most insulting conversation I have ever had with anyone. What an impolite arrogant woman. She immediately began insulting our people accusing them of not following the court order, insulting and abusive behavior towards those covered by the pause, blah blah blah." The court order he refers to is the one that temporarily blocked the implementation of Trump's executive order banning citizens of seven Muslim nations from entering the country.
The "insult" is sure to become the next "nevertheless, she persisted" — a hashtag feminist rallying cry emblazoned on Etsy cross-stitches and mugs the world over. The tagline was popularized in 2017, after the Senate voted to silence Warren's objections to the confirmation of U.S. Attorney General Jeff Sessions, and Senate Majority Leader Mitch McConnell said the words afterward to disparage her. The "nasty women" of Twitter are already reclaiming Kelly's comment:
Actually, the T-shirts are already available for purchase.
And it's only a matter of time before you can get the phrase as a cross-stitch, or a fun watercolor print in "bridesmaid font."
Just in time for the holidays — and decorative-gourd season.