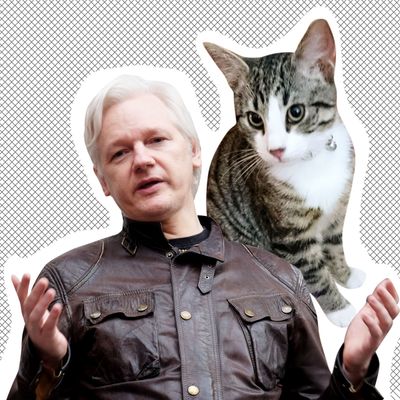 Julian Assange and a cat.
Photo: Getty Images, @embassycat/Instagram
WikiLeaks founder and (allegedly) sub-par pet-owner Julian Assange is planning to sue Ecuador for allegedly violating his "fundamental rights and freedoms," all because the government rightly accused him of being both a neglectful pet owner and a shitty guest.
After fleeing Sweden in 2012, the accused rapist moved into Ecuador's embassy in London, which has graciously let him stay for about six years. According to the Embassy, though, Assange hasn't been very respectful to the Ecuadorian government or the cat — and the Embassy wants to take away his pet. Understandably so! Also, someone please extricate this innocent cat.
First of all, does Assange have a good history with the embassy?
According to a memo published on Ecuadorian website Código Vidrio and obtained by The Guardian, for Assange to stay at the embassy, he is prohibited from getting involved in an activity "considered as political or interfering with the internal affairs of other states." He is also, per the memo, required to complete extremely basic housekeeping tasks, such as cleaning his bathroom and taking proper care of his cat's "well-being, food and hygiene."
According to the Verge, Assange has had trouble sticking to this agreement. In March, the embassy took away his internet after he meddled in other countries' business. To this day, he still only has internet access on his personal computer and phone. And then there's his cat.
What's up with the cat?
Assange has a cat named Michi, or @EmbassyCat on Instagram and Twitter. (Michi means cat in Ecuadorian.) It is unclear where exactly Assange got this cat; all we know is that it was not a gift from his children, as reported in his New Yorker profile.
While Assange clearly loves this cat, the Embassy staff says that he hasn't been feeding or cleaning up after Michi.
What does the embassy want?
The document states that starting in December, the Ecuadorian Embassy will not pay for Assange's food, laundry, or basically any part of his stay, the Verge reports. The memo also says that if he doesn't take better care of Michi's "well-being, food and hygiene," the embassy will give his cat to a better owner. (Though unrelated to Assange's irresponsibility, according to newly-released documents from the Ecuadorian government, The Guardian reports that Ecuador tried to move Assange to Russia in December 2017.)
What does Assange make of this?
Per SkyNews, Assange says the government as violated his "fundamental rights and freedoms." Freedom to be an irresponsible slob?
What will happen to the cat?
The cat will hopefully stay at the embassy, regardless of what happens to Assange.
At the moment, though, it's unclear if that will happen.
What does Pamela Anderson think of this?