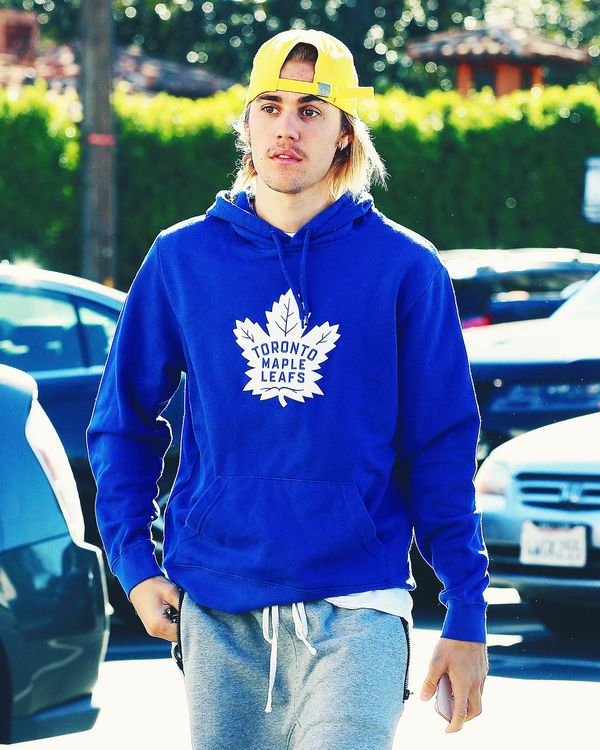 Justin Bieber.
Photo: Pap Nation / SplashNews.com
The question of what to be for Halloween can often be an existential one. Who are you in real life? What is real life? And what is fantasy?
Justin Bieber seemed to ponder all these questions and more on Thursday. If you yourself are a costume, like Justin Bieber is sure to be this year, then what do you dress up as?
Wearing his typical nonchalant getup of sweat-shorts, a Toronto Maple Leafs hoodie, and a yellow VFILES baseball cap, Bieber was photographed browsing a variety of costumes at an outdoor Halloween shop in Los Angeles. One costume in particular that he considered was that of a circus ringleader. This being Halloween, though, one is not simply a circus ringleader. No, Bieber would surely be a sexy circus ringleader.
What, exactly, is a "sexy circus ringleader," you ask? Good question. We're no circus experts, but it seems that traditionally, the leader of the troupe dons a red jacket with a matching bow-tie, plus white gloves, black pants, boots, and a top hat. The "sexy" part comes from the potential use of a whip as an accessory.
When it comes to Justin Bieber, we think "ringleader" is the perfect costume for the circus that he calls life. In this context, it's a choice that's both sexy and spooky for its dark irony.
As "Page Six" noted, Bieber was out shopping alone on Thursday — a rarity since he became engaged (or maybe married?) to Hailey Baldwin. He also didn't seem to be browsing couple's costumes, whatever that means. If there's one thing we know for sure, though, it's that there can only be one sexy ringleader in the circus.