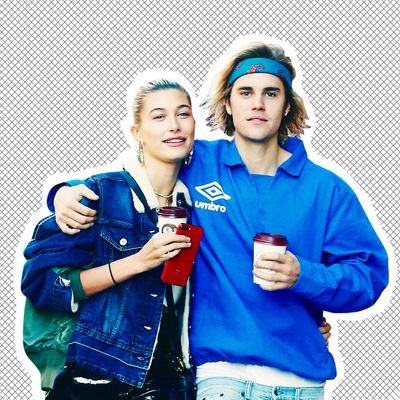 Photo: Original photo by SplashNews
Welcome to You Know What I Heard, the Cut's weekly celebrity gossip column about the peregrinations of the rich and famous.
Last month, Justin Bieber, 24, and his new fiancée Hailey Baldwin, 21, were spotted heading into a New York courthouse. At the time, the tabloids could not confirm what happened inside: Some reported that Bieber and Baldwin got married, others claimed that they just got a marriage license. Baldwin herself tweeted shortly after that she "wasn't married yet," but then she deleted the tweet. So, are they married or what? Thanks to new reporting from TMZ, the gossip site with the closest ties to Bieber, we now know that yes, they got married. And they didn't get a prenup!
TMZ reported this morning that Bieber and Baldwin got married at the courthouse on September 13, and they even brought along a pastor to make it official with God. Curiously, they did not tap one of the pastors with whom they regularly worship, like Chad Veach of Zoe Church or Judah Smith of Churchome. Instead, TMZ says they brought along Jeffrey Quinn, a faculty member at Nyack College, which is near the courthouse. They also had a friend from Churchome, Josh Mehl, serve as a witness. Mehl and Bieber have been friends for at least a couple years and met when Mehl was a worship leader at Hillsong, Bieber's one-time favorite church.
According to TMZ, both Bieber and Baldwin reached out to lawyers about a prenup on the day they got married, but — who knew! — it's hard to get a prenup drafted and signed in a matter of hours. So now they just … don't have one. They could get a postnup, but TMZ says Bieber doesn't feel like he needs one. (His net worth is reportedly $250 million, while Baldwin's is maybe $2 million.)
The newlyweds are now in Bieber's home country, Canada, and on Sunday, they visited the Stratford Perth Museum in Ontario, to see a new exhibit dedicated to Bieber's career. According to Us Weekly, Bieber introduced Baldwin as his "wife" during the visit.
Meanwhile, back in New York, all the drama was happening at the premiere of The Favourite on Saturday night. The period drama stars Olivia Colman, Emma Stone, Rachel Weisz, Nicholas Hoult, and Joe Alwyn. Jennifer Lawrence showed up to the premiere to support Stone, despite the fact that Hoult is her ex-boyfriend. She reportedly brought her current boyfriend, the art guy Cooke Maroney, as her date. And then her most recent ex-boyfriend, the 49-year-old auteur Darren Aronofsky, showed up. Before he dated Lawrence, Aronofsky had a child with Weisz. Are you following?
Apparently, none of this bothered J.Law, but a source tells me Hoult left in a huff right before Aronofsky arrived.
Also at the premiere was Taylor Swift, who is very privately dating Alwyn. WWD reported that the couple sat in a blocked-off banquette at the after-party at Tavern on the Green. There, they met Alwyn's Irish actor friend Barry Keoghan and his girlfriend, Shona Guerin. Here's how Swift introduced herself to Guerin, per WWD: "Hi, I'm Taylor. You look so cute."
Mr. Edgy New York Justin Theroux was also at the premiere, perhaps to support Stone, a "friend" he may have dated earlier this year. According to WWD, Theroux brought along a portable charger for his Juul and wore sunglasses for the duration of the movie.
Now, Theroux is in Paris for Fashion Week. He was photographed walking around the city with actress and model Laura Harrier. Both are Louis Vuitton ambassadors and are presumably in town to attend the LV show tonight. I get the sense that these two are actually just friends.
One small blessing from this week:
Gwyneth Paltrow got married and it was "incredibly romantic."
Finally, I'll leave you with the exciting news that Timothee Chalamet, 22, might have a new girlfriend for awards season. He was spotted walking around New York yesterday with Lily-Rose Depp, 19, the model/actress daughter of Johnny Depp and Vanessa Paradis. According to Us Weekly, they were making out on the street at 10 a.m. My condolences to the mystery blonde.
Thanks so much for gossiping this week. If you'd like to get this column in your inbox every week, subscribe in the box up top, and don't forget to email me at allie.jones@nymag.com, send me a message on Twitter, or contact me on Signal, if you'd like to chat.