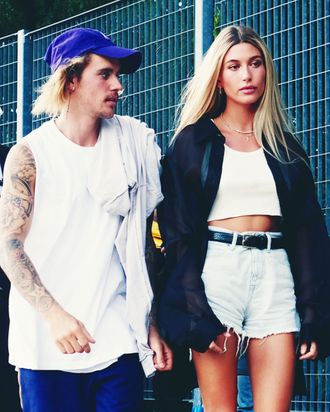 Justin Bieber and Hailey Baldwin.
Photo: Nicholas Hunt/Getty Images for NYFW: The Shows
Justin Bieber and Hailey Baldwin were spotted out on a breakfast date in Los Angeles, eating plates of bacon and eggs, and acting like the blissfully happy newly married couple that they are.
A video captured by a fan at Joan's on Third shows Justin tenderly wiping crumbs off of Hailey's face, before showering her in kisses. The Daily Mail reports that the woman who recorded the video, Nona Melkonian, asked if she should be congratulating the couple on being recently married.
Reportedly, Justin said to Nona "yes, we are married," before calling Hailey an "angel" (Hailey reportedly rolled her eyes at that) who remained by his side through ups and downs and that he has a lot of "baggage." Don't we all.
The couple is still scheduled to hold a formal ceremony to celebrate their status as husband and wife, but their breakfast outing further confirms that the two are legally bound to each each other. In September it was reported that the two visited the Marriage Bureau in New York City, where they got married and which they apparently did without a prenup.
Since getting engaged in July, the couple has been steadily intensifying their relationship, and really, what better says true love like wiping the remnants of food off of your partner's mouth, then kissing that mouth?