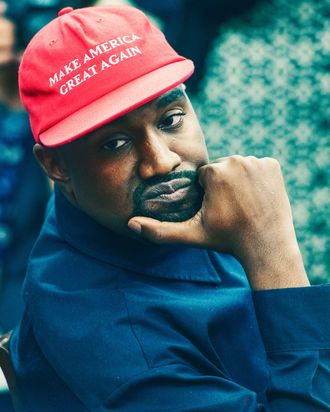 Kanye West.
Photo: Ron Sachs/Getty Images
On Saturday in Washington, D.C., young black conservatives gathered as part of Turning Point USA's Young Black Leadership Summit. According to "Page Six," TPUSA Communications Director and conservative activist/commentator Candace Owens said that Kanye West was there "in spirit," as he was involved in designing merch for the nonprofit organization.
The new TPUSA merch includes T-shirts and baseball caps with the phrase "BLEXIT," which stands for "black exit" — specifically from the Democratic party. In colors typical of West's own fashions, like bright orange and teal, the merch features stick figures that spell out the word Blexit as well as a Vitruvian "X." Some shirts also include the phrase "We Free."
Owens wore Blexit merch herself at the Summit on Saturday, along with many of those in attendance. "Blexit is a renaissance and I am blessed to say that this logo, these colors, were created by my dear friend and fellow superhero Kanye West," said Owens, as quoted by "Page Six" on Sunday night.
In an interview with Breitbart that same day, Owens added that she was the one to come up with the 'X' logo, but eventually tweaked it with West's help. "Me and Kanye had been in constant contact for months. I showed him the Blexit design that I had started to create," Owens said. "He paused for what felt like ten excruciating minutes, looked at me, smiled, and said, 'You know the greatest designer of all-time and you didn't ask me for help?'"
On Monday morning, though, Owens backtracked in a statement on Twitter, which West retweeted. "I said on stage that my friend and fellow superhero helped me design the 'X' for Blexit," she wrote. "This may shock the world, but Ye is a world renowned designer. Everyone who knows him asks him for advice on design."
Owens then goes on to clarify that Blexit is a project that is hers "entirely," and that West introduced her to a designer "with totally different political beliefs" who helped her craft the logo. "The insinuation that Kanye is now the author of my political movement is pointedly wrong and dishonest," Owens concluded.
The specifics of West's involvement with Blexit are unclear, but how we got here is not. Earlier this year, West tweeted that he loved "the way Candace Owen thinks," and outfitted her in head-to-toe Yeezy. And while visiting President Donald Trump at the White House earlier this month, West not only offered his own take on "Make America Great Again" merch, but also expressed his conflicted thoughts on the Democratic Party. "People expect that if you're black you have to be Democrat," he told Trump.
That being said, West also reportedly donated $73,540 to Chicago mayoral candidate Amara Enyia this month, who is running as a Democrat.
The new, Kanye-adjacent Blexit merch is currently being sold on Blexit.com alongside testimonials from black Americans who've left the Democratic party, as well as "inconvenient truths." One such "truth," according to the organization and a link to History.com, is that "the Democratic Party created the Ku Klux Klan."
On the TPUSA online store, customers will also find merch with slogans such as "Capitalism cures poverty" and "Coexist" spelled out in guns. The organization also focuses its efforts on college campuses, hence additional phrases like, "I survived college without becoming a liberal."
Last year, The New Yorker reported that TPUSA was "funneling money" into student-government elections across the country to elect right-leaning candidates. The organization is also alleged to have "fostered an atmosphere that is hostile to minorities." However, TPUSA founder Charlie Kirk denied both these allegations at the time.
The Cut has reached out to TPUSA to clarify West's involvement with TPUSA, as well as to ask who the mysterious designer Owens referenced might be.
Update: On Tuesday afternoon, Kanye West stated his personal beliefs on Twitter, saying that he introduced Candace Owens "to the person who made the [Blexit] logo" and that "they didn't want their name on it so she used [his]."
"I never wanted any association with Blexit," West concluded. "I have nothing to do with it."
This post has been updated throughout.