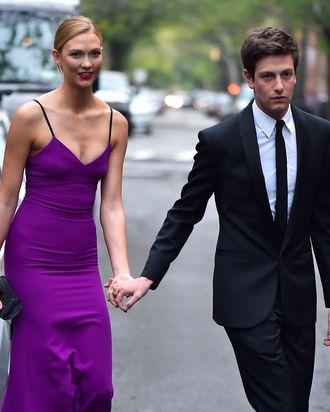 Karlie Kloss and Joshua Kushner.
Photo: Alo Ceballos/GC Images
Karlie Kloss, supermodel, coder, activist, and educator, married Josh Kushner, brother of Jared Kushner and venture capitalist. The couple has been together for over six years, and announced that they got engaged in July.
Kloss, 26, and Kushner, 33, keep most of their relationship private, but Karlie shared a photo of her engagement ring, captioning her Instagram: "I love you more than I have words to express. Josh, you're my best friend and my soulmate. I can't wait for forever together. Yes a million times over."
Kloss reportedly converted to Judaism in June. Ivanka Trump also converted to Judaism before marrying Jared Kushner. People reported that the wedding was a small Jewish ceremony that was attended by about 80 people in Upstate New York. They have plans to hold a larger ceremony in the future.
Kloss told Vogue that she and Kushner have "really grown together personally and professionally. Josh knows that I'm just a nerdy, curious human being. I think that's why he loves me. We have each other's back."
Based on Kloss's Instagram, she got married on Thursday, making her one of the few people who can successfully pull off a weekday wedding. She wore a white, three-quarter sleeve custom Dior gown, and a flowing veil for the ceremony.
We're not sure who was on the guest list, but we've got a lot of guesses. She said that she and Josh share a lot of the same "liberal values," so it's not clear if Josh's brother or his brother's father-in-law were invited.