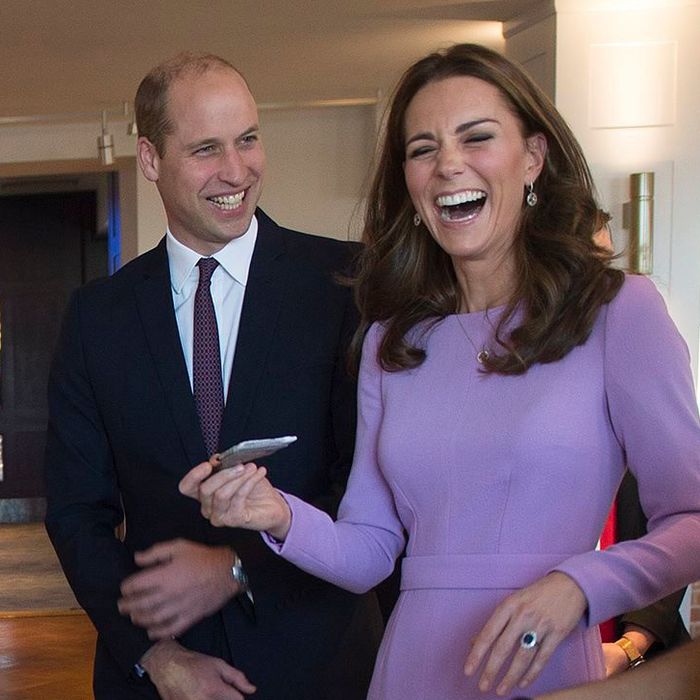 Art, Prince William, and Kate Middleton.
Photo: Eddie Mulholland/REX/Shutterstock
On Tuesday, Prince William reminded us all of something we were aware of but had momentarily forgotten: Kate Middleton is "arty."
The royal duo made an official appearance at the Global Ministerial Mental Health Summit, an event with the aim of helping countries work together on mental-health issues. The summit marked Kate's second work outing since the birth of Prince Louis, and in case you were wondering, she re-wore a lilac Emilia Wickstead dress for the occasion. Anyway, Dairo Vargas, an artist from Colombia, was also at the summit — where, as People reports, he was working on a painting entitled Someone to Turn To.
When Kate and Prince William approached Dairo, as seen in video shared on social media, a magical moment happened. The artist invited the couple to help him paint, but then Prince William suggested Kate take the lead instead. "My wife, she's the arty one," the prince said, thereby reminding us all that she studied art history at St. Andrew's University, loves adult coloring books, and enjoys taking photographs of her kids.
Then Kate took a paint brush, and is seen looking truly ecstatic (and also nervous, I assume, because the art she's about to work on looks very impressive in my opinion) as she takes a paint brush and gently paints a single stroke.
"Fine?" she asked Dairo and laughs, then Prince William jokes that she "almost ruined the picture" (in a cute, not negging, way). The prince then takes the paint brush and says he will "probably ruin the picture" and paints a larger stroke than his wife did. Meanwhile, everyone is laughing and smiling and remembering Kate's passion for art.
I love this video!