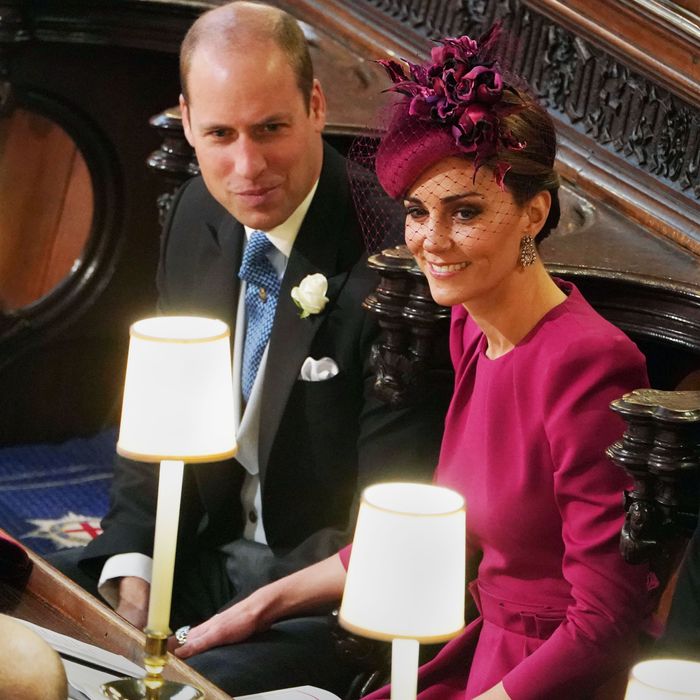 Prince William and Kate Middleton at Princess Eugenie's wedding.
Photo: WPA Pool/Getty Images
You may think the biggest thing to have happened at St George's Chapel, Windsor Castle, on Friday was the fact that Princess Eugenie got married to Jack Brooksbank (under extremely windy circumstances), but unfortunately (or rather, fortunately) you'd be sorely mistaken. Because in reality, something much, much bigger occurred in the church that morning: Kate Middleton and Prince William engaged in some extremely rare PDA.
Unlike Meghan Markle and Prince Harry, who are basically always engaged in some form of PDA, Kate Middleton and Prince William are usually quite reserved. At official events, they walk next to each other without touching, and in portraits during diplomatic occasions, the couple stands next to each other politely. Occasionally we might see a light touch of the back, and whenever they emerge from the hospital after the birth of one of their many children, he always has his arm around her. But otherwise, the seven-years-married couple generally keeps whatever passion they may have to themselves — except at Princess Eugenie's wedding, that is.
Sitting in the church on Friday morning, Kate Middleton was pictured (gasp) putting her hand on Prince Williams lap (ahhh). But it wasn't just your run-of-the-mill lightly-rest-hand-on-lap-in-romantic-but-not-steamy way. No, instead, her hand … touched his inner thighs (help).
You can see the thigh action in that pic above, but here's another pic … of his hand … on hers.
His hand … on … hers …
His … hers …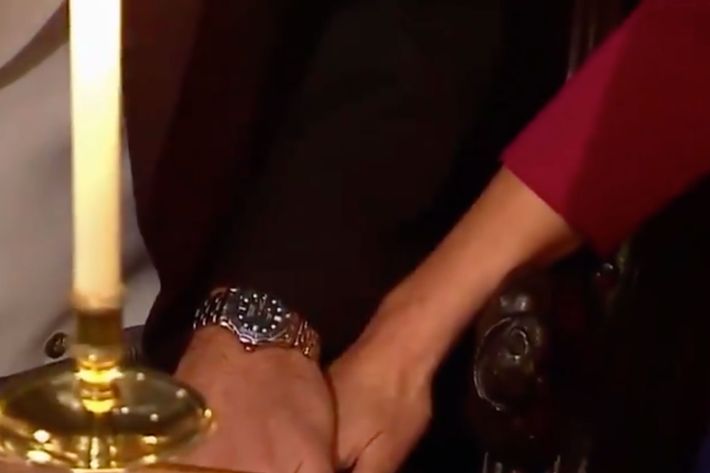 We understand if you need a moment to cool off.