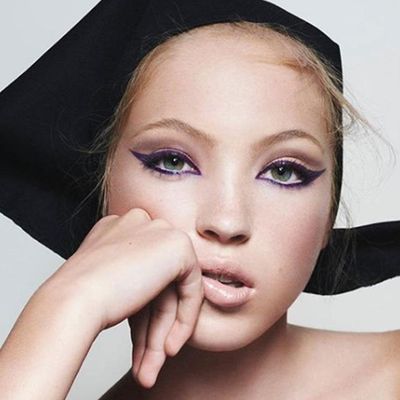 Lila Moss.
Photo: David Sims for Marc Jacobs
Apparently, October is National Daughters of Supermodels Awareness Month. No, really: Kaia Gerber, Cindy Crawford's 17-year-old daughter, was just named the face of YSL Beauté. And Kate Moss's daughter, Lila, just became the newest face of Marc Jacobs. They must have the most photogenic family-reunion photos in the universe.
Besides facial-symmetry genes, there are a lot of similarities between Kate and Lila's collaborations with Marc Jacobs. The designer cast Kate when she was just 18 to walk in the Perry Ellis Grunge Collection back in 1993, and the two have maintained a strong friendship ever since. Jacobs felt a little bit of déjà vu when he met Lila, because it brought back strong memories of that initial meeting with Kate. He elaborated on the significance of working with Lila in an Instagram post:
Another interesting fact is that both Lila Moss and Kaia Gerber's first modeling campaigns were with Marc Jacobs. Paying it forward, generationally speaking, seems to be the modus operandi for the designer. If you want to be ahead of the trend, start scouting the Instagrams of other children of famous supermodels. Chances are they will appear in a future Marc Jacobs campaign.