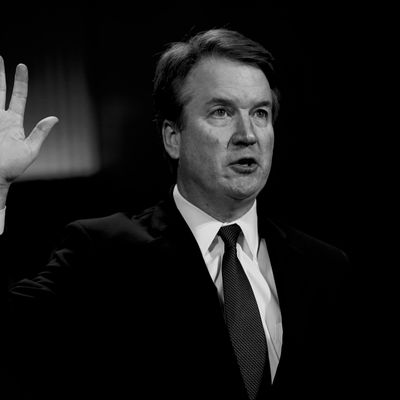 Brett Kavanaugh.
Photo: Andrew Harnik/Getty Images
According to a police report obtained by the New York Times, in September of 1985, while Supreme Court nominee Brett Kavanaugh was an undergrad at Yale, he was involved in a bar fight. The fight occurred at a popular bar near Yale after a UB40 concert.
The police report states that Kavanaugh allegedly threw ice and beer at a man named Dom Cozzolino at a bar called Dempsey's in New Haven, Connecticut. Kavanaugh was one of four men question by New Haven Police. Chris Dudley, a former NBA player and friend of Kavanaugh's, was also questioned by police, for allegedly smashing Cozzolino's head with a glass.
At the time, Dudley denied that he had been involved in the fight, and Kavanaugh declined to tell the officers if he had thrown ice at Cozzolino. The report did not indicate that charges were filed.
The fight reportedly began after Kavanaugh and the group he was with thought that Cozzolino was Ali Campbell, the lead singer of UB40. According to Chad Ludington, a former Yale basketball player who was with Kavanaugh and Dudley that night, Cozzolino noticed the group of men staring at him and aggressively asked them to stop. Ludington says Kavanaugh responded by throwing beer into Cozzolino's face.
"The guy swung at Brett," Ludington told the Times, breaking down the series of events that led to the police being called. Ludington said that Dudley then "took his beer and smashed it into the head of the guy, who by now had Brett in an embrace. I then tried to pull Chris back, and a bunch of other guys tried to pull the other guy back. I don't know what Brett was doing in the melee, but there was blood, there was glass, there was beer and there was some shouting, and the police showed up."
Ludington came forward with the story in a statement on Sunday, casting doubt on Kavanaugh's characterization of how he drank in college. "On one of the last occasions I purposely socialized with Brett, I witnessed him respond to a semi-hostile remark, not by defusing the situation, but by throwing his beer in the man's face," read Ludington's statement.
Ludington is one of several former classmates who have come forward to refute or directly contradict Kavanaugh's claims about his high school and college behavior. On Monday, NBC News reported that Kavanaugh may have known about the allegation made by former Yale classmate Deborah Ramirez for more than two months before he claimed he did.