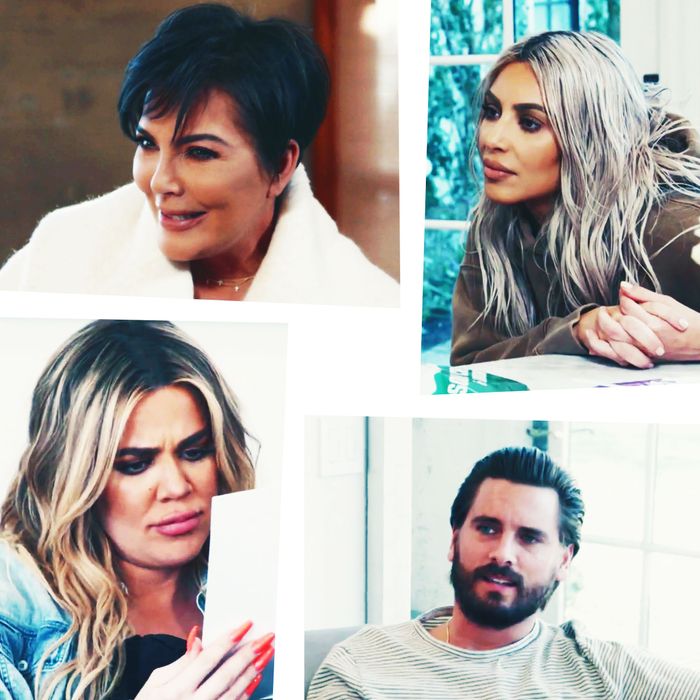 Photo: Courtesy of E! Entertainment
Hello, dolls! First, I'd like to say that this post isn't delayed because I whisked myself away to London for an immersive Love Island experience, it's because I am abroad, and watching television here is … hard? And they don't like making shows available online? Like, Amsterdam, I'd rather you let me die in your pristine streets without health care than let you take my Kris Jenner programs away from me! But, alas, I've made it back to you all safe and sound. Let's get to it.
This week's A-plot was the family's effort to save a local community center; our B-plot was Kris Jenner being pranked; and our C-plot was 23andMe.
Scene 1/Cold Open/Ad/#SponCon/I Will Buy 23andMe:
In one of the bravest crossover events in #KUWTK history, Kris Jenner brings her family's multimillion-dollar advertising prowess from the Instagram page to the Kardashian stage. It appears that popular ancestry and health testing service 23andMe has paid Kris a large enough sum of money for her to gather three of her offspring for a look at their ancestral test results. Someone even got her to record a voice-over on her iPhone (or so it sounds), explaining that these papers she's handing out to Kendall, Khloé, and Kourtney are world-class DNA results. I can't blame them for trying this method, because I assume that spitting in a tube and holding stray papers does not the Instagram clickbait make.
In any case, after we're to believe that these women are able to produce any saliva after their extensive lip injections, we suffer through Kendall proudly announcing that she's 100 percent Wonder Bread White a.k.a. fully European. This makes Khloé and Kourtney practically look like Jim Crow–era darkies because they have a wide mix of ancestry including a substantial sum of Middle Eastern and Native American blood. Shocking that Kendall didn't kick them in the teeth and make them sit in the back of the bus. If you're wondering, Kris, too, is whiter than the first snow in Antarctica. This commercial was filmed on February 22, 2018, the same day Kourtney Kardashian went to night church to hopefully pray the day away.
Scene 5:
At Khloé's, she, Scott, and her assistants plan another phase of their Art Vandelay prank on Kris Jenner. If you'll take a walk back in the near past with me, you'll remember that Khloé and Scott hired an actor to portray an up-and-coming paint splatter artist to art-shame Kris Jenner for art-shaming Khloé, and that Khloé painted pieces of art in her garage that she later gifted Kris. Months later, they're still at it.
This time, though, assistants are involved. Knowing that Kris is coming over, Khloé and Scott have painted two more pieces and intend to ask Kris for her advice on where to hang them. But before she arrives, Scott and Khloé wonder how this has gone on for so long, considering the facts that Kris has tried to get the art appraised and she could just Google his name and see that he's a character from Seinfeld.
When Kris arrives in a jumpsuit that shows off every inch of her womanly white lady and Dr. Oriaun curves, she's immediately drawn in by the art. She immediately takes Khloé and Scott with her on a walk around the house to see where the pieces would fit best. As she looks at empty and filled wall space, Kris tells Khloé that much of her art would be considered temporary and is just waiting to be taken down for better pieces. This is something Kris learned from her boss (or is it the other way around …), Ryan Seacrest. The continuation of this prank that has as many legs as Khloé's Good American warehouse was filmed on February 7, 2018.
Scene 6:
Yet again, we're audience to another scene at Khloé's house. This time, however, we're finally gifted with Kanye West's future first ex-wife, Kim Kardashian West. Kourtney's also there because the sisters really need to discuss an upcoming charity baseball game for the cameras. But before that, as a little fall treat, the cutest human in Calabasas, Reign, does this family a favor and graces our screens. Jokingly he tells Khloé that Honey (Penelope's tiny dog) is a bad dog who tried to run away. If I could steal a kid without penalty through my TV screen, I would!
Earlier in the episode, Kris was in touch with a man named Justin Mayo, the executive director of L.A.'s Watts Community Empowerment Center, a community center and shelter for underprivileged and disenfranchised youth in California. However, when he came to Kris he was bearing bad news: that the community center would most likely have to close its doors if they didn't get some funding or updates ASAP.
This touched Kris and she vowed to reach out to all of her contacts to make something work. Included in this, somehow, was a charity baseball game where the Kardashians would play another famous family and whoever won donated money to the Watts Center and whoever lost donated money to a charity of the winning team's choice. I believe that was the deal, but again, however this family came to play baseball on my TV screen is still not fully worked out in my head. Thinking up the perfect opponents, Kourtney suggests the Jacksons, as in LaToya Jackson's family. As you should know, in case it comes up in your local trivia, Kim Kardashian used to date Tito Jackson's son TJ, and they're really close to the family. The Jackson boys are also great at baseball, so they'd be a good fit. Right then and there, Kourtney calls up TJ and he says that his family would be thrilled! This scene was filmed on January 11, 2018.
Scene 7:
To get ready for their game against the A-list of the C-list Jacksons, Khloé, Kim, Kourtney, and Kris hit a baseball field. Since she can't play due to being pregnant, Khloé, not a baseball player, decides to coach this portion of her team. Though they'll end up playing with a larger number of people, the women thought it best to see where their skill set was at before the big game.
Before Kourtney arrives, Kim and Kris toss and try to bat the ball back and forth between them, and run a few laps to/from bases. Kim, dressed like the black Michelin man, says she can't run much because she isn't wearing a bra — not because she was completing an athletic game in a winter coat — but this didn't stop her from almost putting her mom in a vegetative state with a baseball. Throwing a ball right at the center of Kris's head, Kim caused Kris to duck, which in turn made her fall over and injure her wrist. Like clockwork, Kourtney showed up just in time to nearly get killed by Kim, too. Like Khloé, Kourtney has never played baseball, but unlike Khloé she claims to be very skilled. Well, she isn't. God bless her, she looks better than Tracy Anderson, but honey doesn't know how to hit a flying ball. Khloé's frustrated with how poorly practice went and calls her entire family unorganized and unskilled. This scene was filmed on February 12, 2018.
Scene 8:
Tasked with babysitting the babysitter, Kris and Kim take Scott out to lunch. The meal is casual and a full-on setup to lure Kris into a lunch meeting with the fictitious Art Vandelay. Before this, Scott checks in with Kim to see if she's still on her "no jewelry" kick since her Paris robbery. Kim says she is, and Kris adds that she also doesn't even wear handbags, and is wearing less clothes, too.
Once that's done, Scott puts on his acting panties and asks Kim if she'd be available for lunch the following day with Khloé and Art Vandelay. Kim pretends to check her schedule and says she'll have to double check; Kris, however, makes herself immediately free. She says that the timing is perfect because she's in need of some new pieces for her home. Scott's pumped because he and Khloé are finally going to call curtains on the entire prank and fess up to Kris.
But before their current lunch can end, Kim says that she's been having really weird dreams. One recent one included her thinking North was lost, but then finding her and Penelope on her front lawn passed out from drinking with a homeless man. Wow, Kim really thinks that poor people will turn your children into alcoholics. Think about that. This scene was filmed on February 8, 2018.
Scene 9:
Back on the field, the Kardashians continue to give the MLB a confidence boost. For their second and final practice, Khloé's invited Lisa Fernandez, a former Olympian and current UCLA softball coach. Lisa, taking this more seriously than all combined, gives wonderful tips on how to magically be able to play baseball when the time comes. She's made to work with not only the Kardashian sisters and Kendall, but also their rag-tag team of players, including Larsa Pippen, former Disney channel star turned someone who sends a shiver down my spine, Moisés Arias, and Corey Gamble, who's taken Kris's place as a player because her wrist still hurts. Kris calls him her "secret weapon," though he doesn't quite play as well as she assumed he did.
As they begin practice, the group is absolutely terrible. Even Kendall, who claimed that she was genetically built for this and she has the blood tests to prove it. Larsa, bless her heart, tries extremely hard, but just can't seem to get a grasp on where the ball is. Despite all of this, the team gets a lot better by the end of their practice. This scene was filmed on March 6, 2018.
Scene 10:
The day's finally come for Scott and Khloé to confess to Kris that their whole Art Vandelay bit has been a lie. As they wait for Khloé and Art at Nobu Malibu, Kris asks Scott if he can pull down her pant legs because she either doesn't want to get up or she can't bend over. Once Khloé and Art arrive, the family is shown their private dining room, and commence chatting #ART!
It doesn't take long for Khloé and Scott to break down and confess. Kris is shocked but impressed, especially because Kanye was in on it, "Chrissy" (I'm assuming Teigen) was in on it, and many other close family members and friends. Kris did say that this is starting to make sense because her designer told her that the art belonged in MJ's room, out of sight from the general public. In the end, Kris took the joke well, and applauded her kids for sticking with it for so long. This scene was filmed on February 13, 2018.
Scene 12:
After two practices, it's finally time for the big celebrity baseball game! Under the name Calabasas Peaches, some of Kris's kids, lovers, and friends play against Tito's Team. Now, this scene dragged on longer than Kim's fake ponytail, and if I wanted to sit and consistently watch baseball, I would have stayed my little black behind in St. Louis and watched the Cardinals do their ball thing! This is madness!
Not even A-Rod, Kris's other secret weapon, could make this bearable. Plus, A-Rod has the world's weirdest voice, and IDK how J.Lo does it, dolls! Even with Lisa, the softball Olympian, on their team and A-Rod calling the shots (and leading the team in a prayer huddle), the Calabasas Peaches lose to Tito's team. We're also the losers, because we had to endure God's only accident Jonathan Cheban calling the game and feeling special with a camera in his face. At the end of the game, the Kardashians gifted the Jacksons with a $15,000 check to their charity and also donated more money to the Watts Center! This game was filmed on the same day as their second practice in scene 9, March 6, 2018.
Scene 13:
After their game, Kris, Corey, Kourtney, and Kim visit the new and improved Watts Center. Thanks to Kris's help, they got Adidas to sponsor the outdoor space renovations, Bluprint for their kitchen, Apple for the learning center — and even her kids come together and donate $100,000 as a family. All of this earned Kris and her family the opportunity to be the first ones to cut the ribbon on the Watts Center's new and improved doors. As they tour the new space and play with the kids, Kim eats a churro and talks to some of the Watts Center families about how this has helped them so. Justin Mayo, the man who initially reached out to Kris, is overwhelmed with gratitude because the family actually did something unlike other celebrities and organizations before them. This wonderful scene was filmed on March 17, 2018.
Thanks for joining me this week, dolls! I'll catch ya back in the States next Monday for another #KUWTKE recap of Keeping Up With Kendall Jenner's Whiteness. #23ANDME