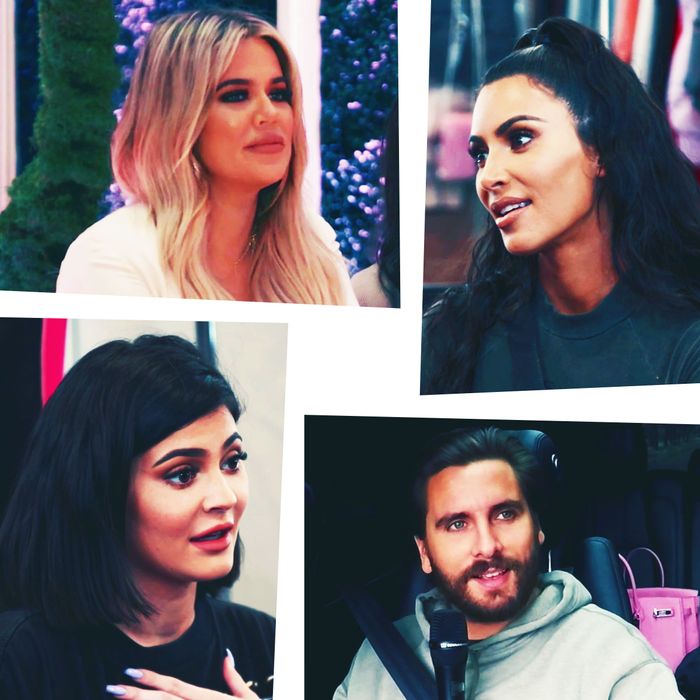 After a needless hiatus, Keeping Up is back! Let's get right to the drama in Calabasas and Cleveland.
This week, our A-plot was Khloé's baby shower and move to Ohio; our B-plot was Kylie's changing body; and our C-plot was Kim and her growing interest in gun reform. #LEGGO
Scene One/Cold Open:
After a long week off, the Kardashians are back with the first episode in a series of devastating events that will eventually lead to Tristan Thompson, Devil's cheating scandal. But before we get to that, we must endure the criminally sweet baby shower of Khloé Kardashian.
Eager to attend the shower she's been planning "forever," Khloé's on the verge of being late to her own party as she's waiting for Kourtney to finish up in glam and get dressed. While she's waiting in Kourtney's closet/glam room (is she poor?) Khloé accepts a FaceTime from Kris Jenner, who is already on her way. She brags about being on the 405 and being early to the party. Khloé tells Kris she wishes she could say the same, as Kourtney, in a towel, says she'll be ready in just five minutes. When Kourtney is finally ready, Khloé tells her sister she looks "fucking" hot, for which she has to promise a dollar to Penelope because I guess they draw the line at cursing in front of children. This scene was filmed on March 10, 2018.
Scene 2:
Finally at the party, Khloé greets her guests, who include Maria Menounos and Kylie Jenner. Kylie — finally free from the privacy prison she's built for herself — tells family friends that her birth was so easy. It didn't hurt and Stormi was born with just about one push! Khloé hopes that her labor is just as easy, but she's wary given the fact that her baby is most likely going to be huge.
Elsewhere at the party, Khloé's guests write down name ideas on a clear dry-erase board. Kendall appears to suggest "Tilly," while Kim and her grandmother M.J. write down "True." Once everyone's seated, Kris gives a teary-eyed toast about how excited she is for her ninth grandchild, especially since she thought Khloé would never be able to have children. Tristan's mom, Andrea, even says a few words and refers to Khloé as her "daughter," which brings the room to tears. After the toasts and sweeping shots of fresh shrubbery and pink balloons, Tristan Thompson and his short friends show up. Everyone marvels at how wonderful Tristan is, and Khloé tells her OB/GYN that he's so great it's impossible to get mad at him. Maybe that helps explain why she's still with him. Like Scene One, this scene was filmed on March 10.
Scene 6:
Weeks before giving birth, Khloé joins her sisters at a Calvin Klein photo shoot. Khloé's excited: It's her last bit of work before she flies out to Cleveland that night (the last possible day she can fly before giving birth), and she's the first visibly pregnant woman in a Calvin Klein ad. But before even getting in front of the camera, Kourtney informs her she's got some pee stains on her panties.
Khloé asks Kourtney to ask the crew for more panties, but to not tell them why. That plan is thwarted by Mason and Scott who begin screaming "KOKO PEED ON HERSELF!" After Khloé's pee situation is settled, it's now Kylie's turn to have an issue. Just a few weeks out of delivering Stormi, she's still insecure about her body. She flashes her post-baby bod to her fam, and they're very impressed. Khloé is surprised to see that her belly button is back to normal, but Kylie says it's still a bit off, and she's 158 pounds. Kris high-fives Kylie because they're now the same weight. Khloé, in her third trimester, tells Kylie to suck it up, and that she's now 198 pounds.
Despite her insecurities, Kylie puts on a brave face and hits the set with her sisters. Everyone's excited to be with each other on Khloé's last day in California, and all wish her well on her upcoming transition. When the day ends, Khloé says bye to her sisters, and Kylie seems to be the most emotional. She tears up and promises that she'll bring Stormi to Cleveland to visit. After this, Khloé's off to Cleveland, all by herself on a private jet. Bye, Koko! This scene was filmed on March 13, 2018.
Scene 7:
Though she's in Cleveland, Khloé hasn't been able to leave all of Calabasas behind. For whatever reason, father of three and babysitter of one (Sofia Richie) Scott Disick has traveled to visit Khloé while she waits to have her baby. Khloé previously told Scott that he'd most likely be bored there, but he has a solution: They'll bring back their Lord and Lady podcast!
Khloé loved that idea, so on his first day in town, they drive around downtown Cleveland and comment on the town. Khloé loves it here, whereas Scott feels as though it looks like a bomb went off and no one had time to clean up. Which is pretty accurate for any Midwest or Midwest-adjacent city (that's not Chicago, for the most part). Whole driving, the two podcast hosts decide to take their podcast out of the car and onto the streets. Roaming, they run into two young women and decide to "interview" them, which is basically just Scott asking, if someone gave them a chance to move anywhere else in the world for free, would they take it. They say they would, of course, and that's that. This scene was filmed on March 15, 2018.
Scene 8:
While Khloé prepares for her first child, Kim prepares her eldest child for the horrors of the world by bringing her to the March for Our Lives rally protesting gun violence. Kim, an avid supporter of politics and motherhood, wants more kids — but she's hesitant to bring more children into this cruel world, where she wants to create change. She also wants to instill these values in her own kids. So, she and Kanye have brought North, then 4, to Washington, D.C., to lend their support and learn what they can do. Aside from not being able to take Kanye seriously at all despite his showing up here, it's nice to see Kim speak to North in a real way. She tells North that they're there to show their support for those murdered by senseless gun violence and find out how they can help. Kim also repeatedly tells North that guns are "not okay."
While with North and Kanye, Kim runs into a ton of celebs, including Miley Cyrus, Demi Lovato, and Common, but more importantly she crosses paths with the parents of children murdered in the Parkland shooting. They're impressed and happy to see that Kim's showed up. After the rally, Kim's hopes about the future of the the world are reassured. Hearing the next generation speak up and be so passionate about fighting for a better and safer future, she's more down than ever to give Kanye the seven kids he's always wanted. This scene was filmed on March 24, 2018.
Scene 10:
Kim's not done doing what she can for gun reform, so she meets with some of the founders and leaders of March for Our Lives in California. Together they sit down and discuss logical next steps. Kim wants to see what she can do to get the word out and get people passionate about protecting our country from gun violence. She doesn't want to be one of those people tweeting about making a difference but never making an effort to create a real change. They tell her that she and everyone else needs to head to the polls and elect leaders who will fight for gun reform.
Kim's, in a word, shocked that this is what it would take.
Apparently, Kim's only voted in presidential elections and she didn't realize that she could vote in so many others. I, like the children, try not to laugh and gawk at this woman sprinting toward 40 talking about how she didn't know there were elections for people like our senators, representatives, and other government officials that don't just live in that big white house. With this new knowledge, Kim vows to vote on November 6, and promises that she'll get her entire family to vote as well. Kim's lesson on voting was filmed on July 24, 2018.
Scene 12:
After dealing with gun laws, Kim takes on another issue that's splintering our country: Kylie Jenner's post-baby body. While purging her closet, Kylie tells Kim that she's got nothing to wear because her body is just not what it was before Stormi. Even though it hasn't been very long at all since she gave birth, and she's still a very petite 20-year-old, Kylie tells Kim that she's throwing out all of her favorite clothes, including her favorite jeans, because she'll never be a size 25 again.
Kim, holding back a smile and clearly thinking about how her biggest competition is struggling, tells Kylie to toss on a few pairs of Spanx and move on with her life. She also tells Kylie that it took her up to eight months to bounce back from her pregnancies. Kylie appreciates Kim's words of wisdom, and tells her that she is her inspiration. Powering up like a Transformer, Kylie tells Kim that if Kim can bounce back, so can she. Before losing control and hexing Kylie with the curse of a normal woman's figure, Kim asks if they can go play some basketball in Kylie's game room. The two sister moms scurry off and toss balls with one another. This scene was filmed on July 9, 2018, five months after Stormi was born.
Scene 15:
Putting aside her body insecurities for the sake of securing the bag, Kylie poses with Kim for a raunchy Kylie Cosmetics ad campaign. The sisters straddle one another in blunt bobs while wearing billionaire Kylie Jenner's face paint and swimsuits. They repeat similar poses in different looks, and as credits roll, spray one another with water in a fake shower, soaking their white T-shirts. You know, sister stuff!
After the shoot, Kylie vows to love her body no matter what size because she's still hot and now she has a little girl looking up to her. Because of Kim's blunt bob and Kylie's blunt bob, this scene was filmed on or around July 29, 2018.
Thanks for joining me, Dolls! Get some rest this week because the next time you're devouring a #KUWTKE recap of Keeping Up With Kylie's Jeans it'll be all about Tristan cheating on Khloé. #KYLIESBACK