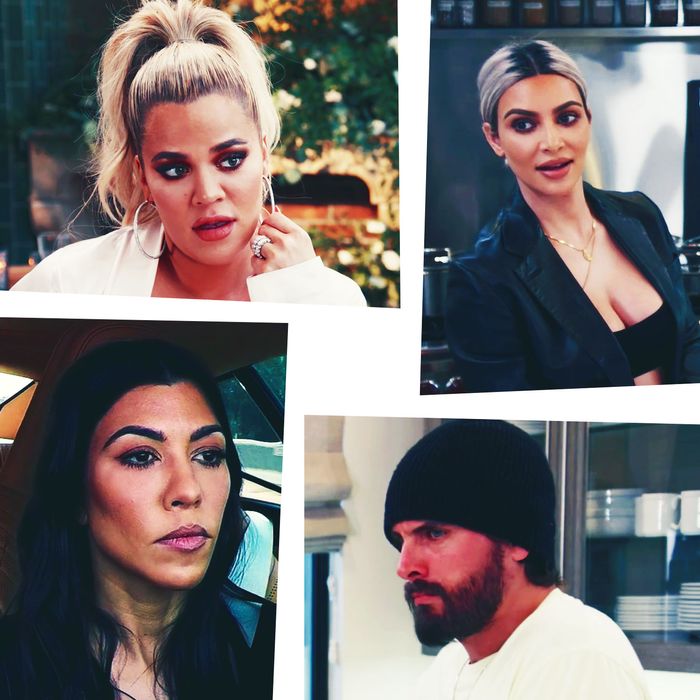 Photo: Courtesy of E! Entertainment
We've officially crossed the halfway point of this season of Keeping Up, and boy did this milestone disappoint. Instead of focusing on TTD (Tristan Thompson, Devil), Kim's work on prison reform, or speeches from Kourtney about why she'll forever be mad at her family, we were served Kanye West and Jen Atkin — and last I checked, neither has the last name Kardashian or a mama named Kris Jenner. Still, we persist.
On last night's episode our A-plot was Kim's big mouth; our B-plot was Kim's deteriorating marriage; and our C-plot was Kendall in Paris. #LEGGO
Scene 2:
At an ice rink, Kim Kardashian hosts her children, sisters, friends, and her husband, slavery enthusiast Kanye West … for a game of bumper cars on ice? All seem to be having a fabulous time, including the intellectually unwell Kanye West. This scene was dug up from the cutting-room floor and is only good for one thing: to set up the growing tension in the couple's relationship now that they have multiple kids.
As Kim caters diligently to her kids, making sure they safely exit the ice, she turns her back on Kanye. In her confessional, Kim says that this outing was arranged so that she could show Saint and North how much they still meant to her even though there's now a third baby in the mix. Kim also notes that as the family grows, she doesn't pay as much attention to Kanye. That's some very intense focus indeed, considering this scene was filmed on September 21, 2017, four months before the Wests became a family of five.
Scene 5:
At home, Kim chitchats with series guest star Larsa Pippen. With what's possibly the mane of one of Kendall's horses stuck on her head, Kim tells Larsa that Scott's been texting her about possibly having more children with Kourtney. Larsa and Kim both love this idea, considering Scott and Kourtney already know that they make cute kids.
The two women also think it'll be easier to co-parent if all of Kourtney and Scott's children have the same two parents. Kim even insinuates that when she became pregnant with North, she didn't know if it'd last with Kanye but she did know that she wanted North to have a sibling in the future — so she requested some extra sperm from Kanye to make her dreams possible. Excited about Kourtney and Scott's possible fourth child, Kim decides to email her family that they should low-key point Kourtney in the direction of having another baby with Scott.
Feeling like the cupid of artificial insemination (she's decided that Scott and Kourtney would do IVF, and not have sex, out of respect for their current partners), Kim's on a high, until she gets a call from Khloé. Apparently Kim emailed a family chain that included Kourtney. To try and fix the problem, Kim calls Simon Huck, a more attractive version of Jonathan Cheban who's with Kourtney, so he can delete the email from her phone. He doesn't answer, but Kim remembers that North is also with them and briefly toys with the idea of calling North's nanny to help. Instead, she crafts an email to send Kourtney and the family to make it seem like the original one wasn't a mistake. This scene was filmed on May 24, 2018.
Scene 7:
Kourtney, crashing yet another one of Khloé's Good American shoots, uses Khloé's workplace for a full-blown vent. This week, she's mad at Kim. Fuming from Kim's accidental email, Kourtney boasts that she gave Kim a cursing-out like one she's never seen or heard before. As she does during her best complaining, Kourtney shovels salad into her mouth, telling Khloé between bites that her issue with Kim is larger than #TheEmail and the follow up email to try and cover her tracks.
The first-ever child to exit Kris Jenner's womb says that she's concerned for who Kim is as a human. She now knows that Kim is a malicious person who engages in "fucked-up behavior," which has really helped Kourtney realize that she's not one for "manipulating, backstabbing, and lying." All Khloé does is nod along in faux shock as Kourtney pats herself on the back for going off on Kim. This scene was filmed on February 6, 2018.
Scene 8:
In Paris, Kendall Jenner is used as E!'s pawn to test interest in a Jen Atkin television series. In this week's backdoor pilot — most likely to be about the hairstylist turned beauty line mogul turned Instagram travel influencer's journeys around the globe — Jen and Kendall take Paris. Kendall, on a four-day work trip to Paris, is following Jen's lead to use this time abroad to have some fun and explore a city she's been to tons of times, but never really toured.
Here's the thing: Jen and Kendall are accompanied by Mary Phillips, one of Kendall's makeup artists, but this storyline is all about Jen. She even makes her confessional debut! I think that since Jen's made her mark on Instagram with admittedly very well curated travel guides for cities such as Tokyo, Paris, and Los Angeles, E! is interested in possibly giving Jen her own show. They even made it easy for Jen by pairing her up with Kendall, who would make even a lump of clay seem brimming with life and fun. And yet, Jen fails. I have no choice but to report her — she seems more needy for screen-time than relatable — to local authorities for hijacking my television program!
In any case, in Paris, Kendall, Jen Atkin, Mary Phillips, Kendall's blurry-faced friends, plus some younger models, Kaia Gerber and Charlotte Lawrence, take in a burlesque show. At Crazy Horse, the group of ladies admire the topless burlesque performers. Kendall especially admired their breasts, and in her confessional — shared with Jen — the two ladies lament that watching these "perfect" women makes them feel inadequate.
Post-show, the group meets the performers backstage, and Kendall and Jen just couldn't help themselves and put on a mini photo shoot of their own. Kendall, wearing a wig she found and stripped of the clothing she came in wearing, poses for Jen, now her light director, and a cell-phone camera, held by someone else. This scene was filmed on April 4, 2018.
Scene 10:
Out to lunch with Calabasas's very own Malicious, Backstabbing, Lying Kim Kardashian, Khloé now gets the chance to listen to Kim complain about her husband, Kanye West. Before getting to the tea, Kim shows Khloé a very cute video of Saint talking to baby Chi, who's lying up in bed like a true QUEEN.
Now, to the fight. Already annoyed that Kanye blew up over her Instagram feed (he wanted her to "fuck her fragrance" and post six consecutive images of herself lounging in a hotel room with braids), Kim is mad at Kanye yet again. Kim describes a fight from the night before, when she was busy working on her computer and Kanye asked if she could stop and hang out with him. She said she could not, as she was on a deadline. But shortly after, when Saint asked Kim if she would give him a bath, Kim immediately obliged. This apparently led to Kanye becoming upset that she could free herself up for her child but not her husband.
Next, Kanye got upset with Kimberly over a Band-Aid. Probably because he needed one for a small, stupidity-related injury, Kanye asked Kim to procure a Band-Aid. Kim told Kanye that he knew where to look for them — and while he eventually found one, he didn't like its color. Which, fair: Band-Aids are among a long list of products marketed as "flesh-colored," which only applies if you're white.
Kim told Kanye that he could use one of North's Jesus Band-Aids, but Kanye refused. Apparently, he screamed that he "slaves" around the world to bring Kim beautiful Yeezy fashions (LMAO, SURE, JAN) and she'd have him walking around with a Jesus Band-Aid? He then told Kim that she'd probably have gotten Saint a Band-Aid if he asked. Kim then asked him if he was in a fight with her or a fight with Saint. Showing remarkable clarity for someone who is remaining consciously coupled to Kanye West, Kim says that his anger over a Band-Aid and her love for her children is where she draws the line.
Khloé, while understanding her sister's frustration, feels that Kim should baby Kanye a bit more. She thinks that men feel a little left out once a baby arrives, and Kim needs to remember to give Kanye some affection and make him a priority. Kim agrees that she's "fully neglected" Kanye, especially since Chi's birth, and she decides to make an effort to change that. This scene was filmed on February 8, 2018.
Scene 13:
Back in Paris, Kendall Jenner takes Jen Atkin horseback riding for the first time. It appears that Jen's Untitled Travel Show will also explore the shallow depths of her comedic prowess. Staring directly into the camera, Jen pulls faux scared and shocked faces before she and Kendall ride off into the French distance. Surprise, surprise: Kendall is concerned for Jen's welfare on the horse.
It's raining, and Jen's horse seems jittery, leaving Jen unsteady and uneasy. The model tells her hairstylist, "I don't know," insinuating that Jen should remove herself from the horse immediately and commit to being the best bystander she can be. Jen responds with her classic comedy, telling Kendall that she has a good life-insurance plan. Joking about a tragic death by horse on national television is just about as good as a gets! This scene was filmed on April 3, 2018.
Scene 16:
In Calabasas, Kourtney invites two of her least favorite people over, Kim and Scott. Even though it seems like Kourtney has only just forgiven Kim for talking behind her back, Kim can't help but clock in to work on Kourtney's nerves.
She begins by asking Scott if he really would want a fourth child. But Kourtney's not going to allow Kim to get away with speaking out of turn this time, and she tells her sister that the talking behind her back has got to stop. Scott co-signs, telling Kim that Kourtney is super private. Calling bullshit, Kim sarcastically says that Kourtney must be super private considering she filmed the birth of her first child for a television show. To this, Kourtney tells Kim that it's her choice to share whatever she wants to share, and that's entirely up to her. Kourtney also makes the point that Kim wouldn't like it if she shared private information with the rest of her family. Kim agrees, and they make up, this time. This scene was filmed on February 10, 2018, given Kim's white nails and reworking of an outfit she wore on both February 8th and 9th.
Scene 17:
Making an effort to make up with her husband and her sister, Kim's taking Kourtney out on a Valentine's Day excursion. Buying a local pharmacy's entire Band-Aid supply, Kim hopes to present Kanye with a heart made entirely of Band-Aid boxes, along with a kinkier surprise, thanks to the adult entertainment store Kim and Kourtney also stopped at. Kim appreciates how Kanye always makes her feel special, and she doesn't want him to feel neglected in any way. As the sisters shop for lingerie, Kim realizes that she's worn many of the $1.99 pieces as outerwear. Kourtney can't say that she's also done this, but she does advise Kim to dress up as a nurse since Kanye thinks she doesn't take care of him.
After their sexy sister shopping trip, the episode pivots to a sexy sister skiing trip that the two ladies took with their kids. On the slopes of Park City, Kim and Kourtney are once again a united union of unique sisters. And so are their kids. The power of family is evident as the episode ends with Penelope and North joking around with one another. This scene was filmed on February 14, 2018 and February 18, 2018.
By the grace of God we've got yet another episode on the books, dolls. Join me next week for another #KUWTKE recap: Keeping Up With Kardashians on Ice! #JESUSBANDAID.