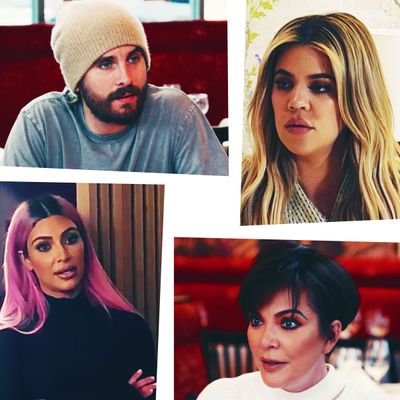 Photo: Courtesy of E! Entertainment
The wait's been long enough, so let's jump in, Dolls!
On this week's episode of Keeping Up our A-plot was Kim's insanity; our B-plot was the sister trip to Japan; and our C-plot was Kris Jenner's idea of a gift. #LEGGO
Scene 6/Scene 7:
This episode, all about the Kardashian sister trip to Japan, starts the ladies off on their journey as animated characters. No, Dr. Orion and Dr. Diamond have not gone too far — rather the editors on KUWTK slaving away on this program for the past decade finally decided it might be easier to create their own footage instead of using the live action material delivered to them weekly. After their cute animations and a little bit of chatter about time-zone confusion, the sisters settle into their Tokyo hotel and prepare for the night.
Typically, the family goes on a group vacation each season as a reprieve from: driving and speakerphone scenes, scenes around Khloé's kitchen table, scenes in Khloé's backyard, and scenes in Kris's kitchen. It's usually a welcome break, but this season, only three of the the shows stars were invited. Plus, it wasn't truly a vacation — it was Kanye West's serf and Yeezy model Kim Kardashian West's first work trip abroad. For this trip, Kim's been tasked by Kanye with shooting dozens of street-style looks in a matter of days. Like Yeezy season 6, Kanye's opted out of conforming to the fashion industry's fashion show schedule and instead decided that Kim should simply parade around town in his looks. Kourtney and Khloé on the other hand, are on the trip simply to enjoy Japan like normal people.
At the hotel while she waits for her sisters to finish getting dressed for dinner, Kim shoots two seperate Yeezy looks — an Adidas T-shirt, sweatpants, and heels, and then a bodycon minidress with a cropped puffer coat and heels — before she changes into her oversize suit, sans shirt, and heels for dinner. Getting high from the thrill of walking out of her hotel and just far enough for her personal photographer and paparazzi to catch her, Kim giggles to herself and tells her squad, "my sisters must think I'm crazy." Kim, they do, but surely not just for this.
Finally, it's time for dinner, but because Kim's mind is wrapped up in the fashions of a brain-dead former rapper, she cannot understand what her sisters are wearing — their flashy outfits and colorful eye makeup are completely at odds with her simple aesthetic. Thus, she asks them to walk either ahead or behind her so that she's photographed alone. And at dinner, Kim's appetite is gone — she refuses to eat or look at her sisters without a grimace. This scene and the beginning of Kim's Yeezy breakdown was filmed on February 28, 2018, two days after they landed in Japan.
Scene 8:
The morning after Kourtney and Khloé's fashion fail, Kim visits her sisters to give them a tongue lashing. Without mincing words, Kim tells her sisters that they looked like "fucking clowns" the night before. She then tells them that this trip isn't meant for them to dress like tourists and mimic the cultural look by trying a "geisha" moment. Both Khloé and Kourtney hold back laughs as Kim reams their style, and in her confessional, Kourtney makes a great point by saying that at least she doesn't look like she just won the Tour De France while racing around town in spandex and gym shoes. Kim doesn't care though, and tells Khloé and Kourtney to rework their trip looks with glam because she'll have none of what's going on now. In a brief attempt to soften the blow, Kim adds that she's not trying to tell them who to be and what to wear, but she is and she will. This scene was filmed on March 1, 2018.
Scene 13:
Still fed up, and most likely missing Yeezy deadlines, Kim visits Kourtney and her glam team to yell at them some more. Insulting everyone involved in Kourtney's look, Kim says she looks like a "grandma" and should try a more "Kendall" approach to fashion or she'll fizzle out soon. As Kim delivers a nonstop trail of insults, the group of people that have just made Kourtney up, including Kim's longtime pal and makeup artist, Mario Dedivanovic, listen in, as they too are being criticized. Kourtney still doesn't care about what Kim has to say, and for her, Kim's insanity transcends fashion as Kourtney believes Kimberly just doesn't understand the importance of travel. Sure. This scene was filmed on March 2, 2018.
Scene 14:
Over in Calabasas, things are equally one-percent, with Kris Jenner gifting her longtime best friend Sheila Kolker a face-lift. After hearing her friends complains about her sagging neck and general aging, Kris thought it best to repay her friend for being her children's play auntie by paying for two incisions in the back of her skull. After consulting a skeptical Scott, Kris, along with another friend, surprised Sheila with the news — and Sheila was thrilled. Kris also thought this would be fun for Sheila to be on the other side of things, especially since she accompanied Kris for her first boob job and her first face-lift. This scene was filmed on March 29, 2018.
Scene 15:
In Japan, Kanye West's Fashion Police Kim Kardashian is still investigating Kourtney. Admitting to being snappy, Kim attributes her behavior to the stress of the Yeezy campaign. But when trying to apologize for her harsh words, Kim gets it a little mixed up and tells her sister that if she can't take criticism then she shouldn't have come on the trip. She also wonders why Kourtney isn't just letting he insults slide right off of her back, like "old Kourtney" would.
Kourtney responds that it's easier to be a bitch than be open and honest with your feelings. She also defends her looks, saying that she loved them and that's all that matters. Kim, again, calls her a "clown," so Kourtney gives Kim what she wants, a bitchy response from Old Kourtney. She tells Kim that she's the one who looks crazy with her pink hair, turquoise shoes, and puffer jackets. And besides, Kourtney continues, she didn't come to Japan to show her ass in see-through leggings, like Kim. This scene was filmed on March 3, 2018.
Scene 18:
After spending almost all of their time fighting over fashion in Japan, Kourtney and Kim go on a sister date with part of their glam team, Justine Marjan and Mario. Shockingly, Mario and Justine insert themselves into the Kim and Kourtney drama, because her insults affected them and their work. They tried to be helpful and teach Kim how to sandwich a constructive criticism between positive feedback. This tip was news to Kim and she still doesn't quite subscribe to it. Still, she apologized for being so mean and negative and promised that she'd do better. After this, they were back to normal! This scene was filmed on March 2, 2018, the day before Kourtney decided to be a bitch to Kim in Scene 15.
That's it for this week, Dolls! I'll catch ya back in Calabasas for another #KUWTKE recap of Keeping Up with the Klownsashians. #CLOWNS