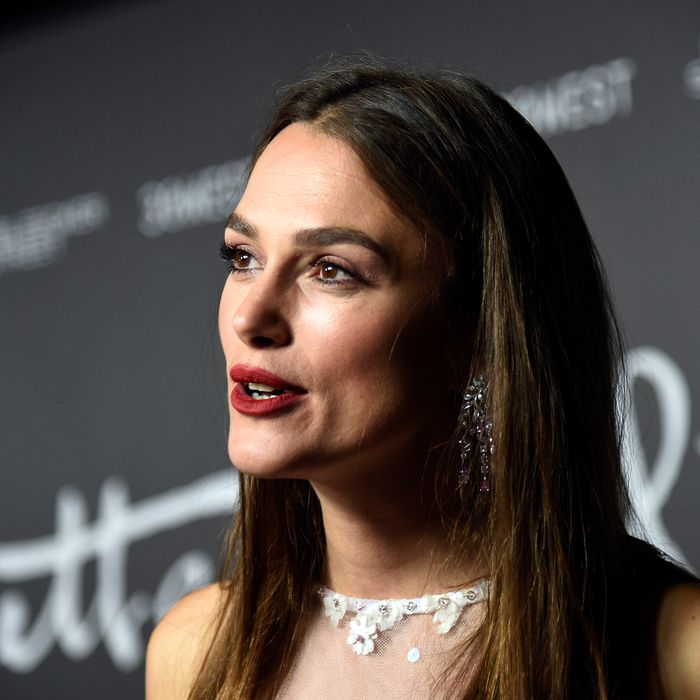 Keira Knightley at the premiere of Colette.
Photo: Kevork Djansezian/Getty Images
Keira Knightley wrote an essay for the upcoming book Feminists Don't Wear Pink (And Other Lies) in which she detailed giving birth to her daughter three years ago. Refinery29 published a portion of her essay, where she described in detail, meeting her child for the first time: "My vagina split, you came out with your eyes open. Arms up in the air. Screaming. They put you on to me, covered in blood, vernix, your head misshapen from the birth canal. Pulsating, gasping, screaming."
The book of essays, which was curated by Scarlett Curtis, includes essays from other powerful women like Saoirse Ronan, Adwoa Aboah, Jameela Jamil, and Gemma Arterton. Each essay tackles a different, personal approach to issues facing women.
Knightley's essay also touched on the treatment of Kate Middleton after the birth of her daughter — they both gave birth at similar times in 2015.
Hide. Hide our pain, our bodies splitting, our breasts leaking, our hormones raging. Look beautiful. Look stylish, don't show your battleground, Kate. Seven hours after your fight with life and death, seven hours after your body breaks open, and bloody, screaming life comes out. Don't show. Don't tell. Stand there with your girl and be shot by a pack of male photographers.
Knightley also touched on the sexist double standards she faced after coming back to work as a new mother, and the tensions that exist as she works alongside men. "I work with men. I watch them and they watch me," she wrote.
"They worry that I don't like them," she continued. "It drives them mad. They belittle me, they try not to listen to me, they don't talk to me, they don't want to hear my voice, my experience, my opinion."
She dedicated the essay to her daughter.