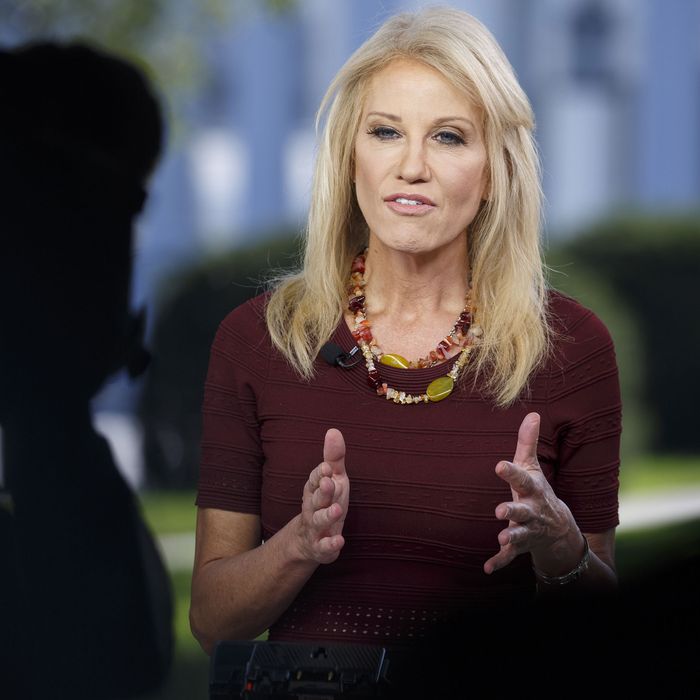 Kellyanne Conway.
Photo: Joshua Roberts/Bloomberg via Getty Images
At a rally in Mississippi Tuesday night, a crowd of Trump supporters roared with laughter as the President mocked Christine Blasey Ford, one of three women who claim that Supreme Court nominee Brett Kavanaugh sexually assaulted them. The following day, politicians from both sides of the aisle condemned Trump's offensive comments, calling them "wholly inappropriate" and "just plain wrong." When White House counselor Kellyanne Conway was asked to comment on the remarks, though, she wasn't so critical, arguing that it's time the White House stop treating Blasey Ford "like a Fabergé egg."
Just over two weeks after Conway said Ford "should not be insulted," the counselor went on Fox News on Wednesday, where she expressed doubts concerning the validity of Ford's allegations against Kavanaugh, and defended Trump's performance on Tuesday night. During the rally, Trump listed off what he considers to be "inconsistencies" in Ford's story, calling out, "What neighborhood was it in? I don't know. Where's the house? I don't know. Upstairs, downstairs, where was it? I don't know. But I had one beer. That's the only thing I remember."
When asked by host Bill Hemmer whether she thought Trump's comments were "wrong," Conway shot back that the White House has been "incredibly accommodating" — in her opinion, too accommodating.
"She's been treated like a Fabergé egg by all of us, beginning with me and Trump," she said, before questioning Ford's veracity. "She provided her testimony, she still has no corroboration for her testimony … By Ford's own testimony, there are gaps in her memory, there are facts that she cannot remember."
Conway wasn't the only White House official to sow doubt into Ford's story in response to the president's rally. During a press briefing, White House press secretary Sarah Huckabee Sanders said Trump was simply "stating the facts" during his tirade, and insisted that the president is still "very confident in his nominee, as he has said time and time again."
Neither Conway nor Sanders — nor Trump — questioned the truthfulness of Kavanaugh's story, which, as many of his former classmates have claimed, appears to be replete with lies.