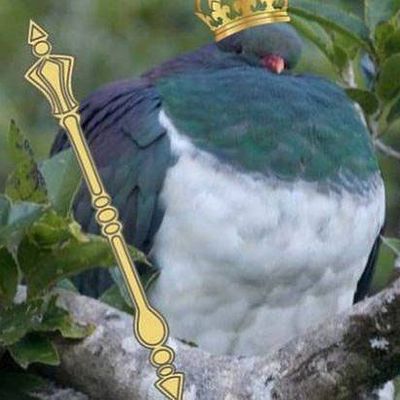 The victor.
Photo: Forest & Bird
Just one week after 409 Beadnose won the title of Fattest Bear of 2018, another much-coveted title has been awarded to another deserving, round creature: the "clumsy, drunk, gluttonous and glamorous" kereru has been named New Zealand's Bird of the Year 2018!
[Pause for raucous applause.]
The bon vivant kererus are known to feast on rotting and fermented fruit, which gets them tipsy, and occasionally leads to them falling out of trees. (Who among us …)
"They have quite a reputation of being large and clumsy and being a bit of a clown," Megan Hubscher, the senior media and communications Adviser for Forest & Bird — the conservationist group that runs the vote to raise awareness about threats faced by the country's rare and endangered birds — told the BBC.
"There are a lot of videos around of kereru getting drunk and stumbling around in a comical manner. That's part of the charm. They're just very loveable birds."
The kererus faced some stiff (pun intended!) competition for the Bird of the Year title, like the colorful takahe, and this kakapo, who is a very good dancer, and is still great even if they didn't win.
This year's competition drew over 48,000 votes, with the kereru winning 5,833. Celebrities like Stephen Fry, comedian Bill Bailey, and Prime Minister Jacinda Ardern also weighed in with their preferences, and some of the birds even popped up on Tinder, which is great if that's what you're into.
Congratulations to the kereru. You earned it, and hopefully you are somewhere celebrating, knee-deep in rotten, boozy fruit.