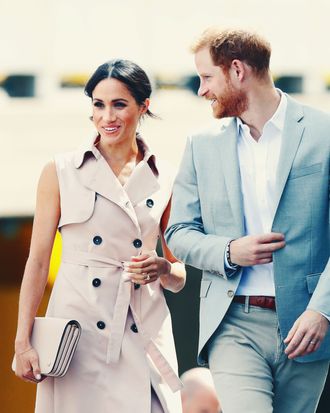 Meghan Markle and Prince Harry.
Photo: Max Mumby/Indigo/Getty Images
During the first day of their tour of Australia, New Zealand, Tonga, and Fiji, the Duke and Duchess of Sussex came across at least one resident who was unfazed by their royalty.
A koala at the Taronga Zoo in Sydney didn't even bother to stop munching on leaves in the presence of Meghan Markle and Prince Harry.
Maybe the koala hadn't heard the good news that Meghan and Harry are expecting their first child, which they announced on Monday morning. The baby is expected in spring 2019.
The expecting couple already met with the Australian governor-general and Lady Cosgrove, and were gifted a pair of baby Ugg boots and a stuffed kangaroo as presents for the child.
While a zoo employee gives a tour to the very attentive royal parents-to-be, the koala keeps reaching farther and farther for more leafy snacks. The furry creature only glanced once or twice over its shoulder with glacial indifference.