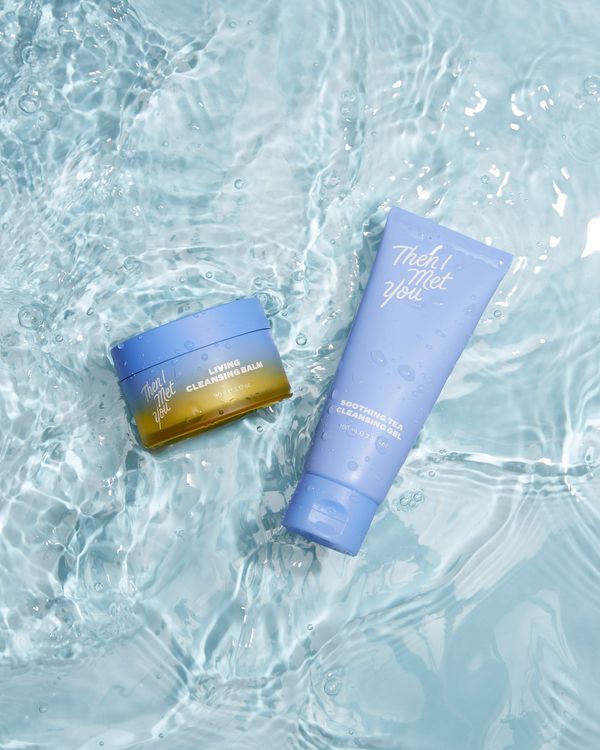 The Cleansing Duo.
Photo: Courtesy of Soko Glam
There are a lot of foreign-language words or phrases that don't have direct English equivalents. They describe feelings in a more abstract way, like fika or hygge. The newest one is the Korean word jeong, which inspired Soko Glam founder Charlotte Cho to create her own skin-care line, Then I Met You.Jeong means cultivating deep, emotional bonds to the people, places, and things that mean the most to us: It's an ongoing process, not a one-and-done type deal. If it sounds a lot like navigating the world of skin-care routines, it makes sense. Jeong is what Cho experienced when she started working in Korea after college and was first introduced to the world of K-beauty. The name, Then I Met You, represents a turning point in your life and Cho encourages you go deeper and beyond the surface level – in both your skin and your life.
The line debuts today, and is kicking off with the Cleansing Duo. The basic function of double cleansing is that your face, of course, gets cleaner (stay with me). But it's less about the number of times you clean your face, and more about what kind of products you're using to do it. First, an oil-based cleanser which helps to dissolve and remove your makeup and hard-to-remove sunscreen. Then, a water-based cleanser works to clean sweat and dirt away — all doing it ever-so-gently. This two-step approach is effective because you're focusing on removing everything on your face, from the top layer of makeup down to dirt that might be clogging your pores, without over-drying. It's using two gentle cleansers to clean and not strip the skin, rather than one abrasive cleanser.
Sometimes the endless skin-care products and processes can get a little monotonous. So it would probably be nice to step back and think about something like jeong to make it feel more like a meditative practice. Who knew a single word could elevate the practice of "washing the gunk off your face" to "cultivating a meaningful relationship."
Photo: Courtesy of Soko Glam
Photo: Courtesy of Soko Glam
If you buy something through our links, New York may earn an affiliate commission.