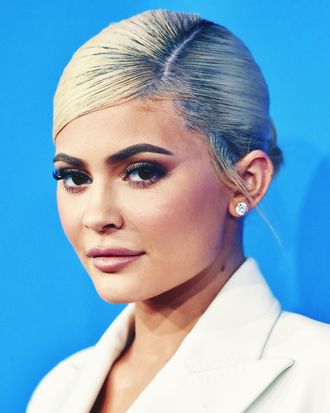 Kylie Jenner.
Photo: Axelle/Bauer-Griffin/FilmMagic
Kylie Jenner has a lot of things: expensive ponytails, million dollar Instagram posts, a stylish baby, an endearing penchant for dry cereal, an extremely successful namesake cosmetics line — but there's always room for more. The 21-year-old may be adding her own brand of skin care to that list. According to the website Trademark Ninja, Kylie's company Kylie Cosmetics by Kylie Jenner recently submitted three trademark applications: One for "Kylie Skin by Kylie Jenner" and two for simply "Kylie Skin." That's a lot of Kylie and a lot of skin, but it's a smart move considering everyone is super into skin care right now.
Things get even more interesting when you take a closer look at the applications. The trademarks were applied for basically every skin-care product you can think of: moisturizers, cleansers, toners, facial mists, serums, masks, oils, peels, and even body powders. The second "Kylie Skin" trademark application however, is for "Retail store services featuring skin care products, skin care preparation products, cosmetics, cosmetic preparations and gifts."
Gifts! It's only October, but can you think of a better holiday gift than a set of Kylie Cosmetics by Kylie Jenner Kyshadows, Kylighters, and Kylie Lip Kits, paired with Kylie Skin by Kylie Jenner skin-care products to prep, and a Kylie Gift Kard to shop for even more at a brick and mortar Kylie Skin or KylieSkin.com? I think not.
According to the Kylie Cosmetics website, "Kylie is currently working in the Kylie Cosmetics Lab on a handful of new, top-secret products she's creating to help give you that perfect 'Kylie look'." This has to be it, I'm sure of it.