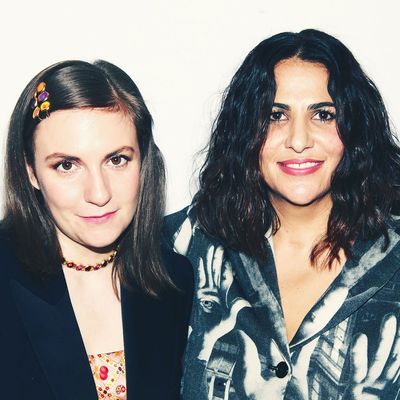 Lena Dunham and Jenni Konner.
Photo: Mike Pont/WireImage/Getty Images
Lenny Letter, the website and newsletter created by Lena Dunham and Jenni Konner, will be shutting down on Friday, Digiday reports. The publication's contributors were reportedly told last week.
Started in 2015 by the Girls co-creators, Lenny Letter first launched as a weekly email newsletter with advice, essays and product recommendations for millennial women, before expanding to a website. Its mission statement read at the time of its launch: "Lenny is your over sharing Internet friend who will yell at you about your finances, help you choose a bathing suit, lamp, president … AND tell you what to do if you need an abortion."
Over the course of its existence, Lenny Letter featured a spate of essays from Dunham, her famous acquaintances (like Jennifer Lawrence's piece about pay disparity in Hollywood), and acclaimed writers, including its former editor Jessica Grose. It also launched a podcast collaboration with Janet Mock. But the website also faced controversy. Notably, in November 2017, author Zinzi Clemmons wrote an open letter in which she said she would no longer write for the outlet. In her letter, Clemmons accused Dunham of racism, and called out Dunham and Konner's decision to publicly defend Girls writer and executive producer Murray Miller against an allegation of sexual assault. (They later apologized.)
During its tenure, the newsletter grew to more than 500,000 subscribers, and a separate book publishing arm (called Lenny) published several titles. Digiday notes that Lenny Letter began through a partnership with Hearst, before transitioning to Condé Nast last October.
The Cut has reached out to Condé Nast for comment and will update if we hear back.