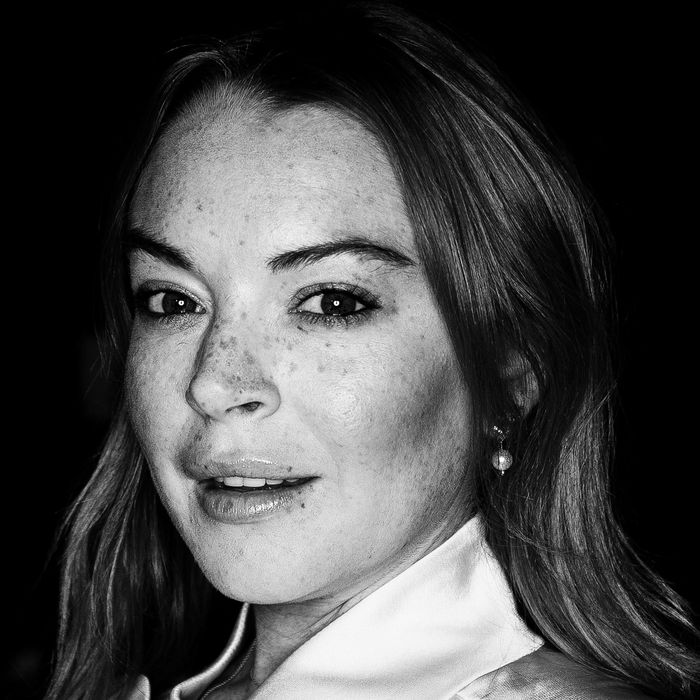 Lindsay Lohan.
Photo: Eduardo Parra/Getty Images
On Saturday night, Lindsay Lohan began livestreaming an encounter she had with a homeless family on her Instagram, when Lohan began yelling that the family was trafficking children. It was a bizarre encounter, one that ended with Lohan getting punched in the face. Here's everything you need to know.
The incident reportedly occurred in Moscow.
While the most recent photos of Lohan place her in Paris for Fashion Week, TMZ reported that Lohan was livestreaming from Moscow, Russia, when she hopped out of her car and began speaking to the family.
"Hey everyone, I just want to show you a family that I met," Lohan said, according to Time. "A Syrian refugee family that I'm really worried about. They really need help."
The family was homeless and sleeping outside. She began urging them to get into the car with her.
She spoke to the family in Arabic and English.
According to People, Lohan believed that the family she began following was a family of Syrian refugees. She can be heard in the video speaking in both Arabic and English. She asked the children in the family to go with her to watch TV and movies. When they kept walking away, Lohan got angry. She began yelling at the family in both Arabic and English, though she had an odd accent when she spoke English.
She can be heard saying "Hey kids!" then, "you're ruining Arab culture by doing this."
Lohan kept following the family.
When the family continued to ignore Lohan, she got only got angrier, and began accusing the parents of trafficking children. "You're taking these children, and they want to go," she said, in heavily accented English.
After following the family for several minutes, Lohan was punched.
Lohan kept following the family, and after several minutes, a woman's voice can be heard before Lohan's camera shakes. Lohan then says that the woman hit her. "You guys, I'm so scared," she said, while crying and holding her face. The livestream then ended. The videos were taken down a short time later.
Now Lohan's friends are reportedly begging her to come back to the U.S.
The incident, not surprisingly, raised some eyebrows, including among Lohan's friends who, according to TMZ, are worried about her mental health, and urging her to come back to the States. Specifically, for her to return to Cincinnati, where a "close friend" of hers has strong personal ties, and where she won't be accosted by paparazzi.
One obstacle, however, is that Lohan's moving back to the U.S. could interrupt filming on her reality show set at her beach club in Mykonos.
They are worried she went to Moscow to meet up with her ex.
Sources also told TMZ that they were concerned Lohan went to Moscow to meet up with Egor Tarabasov, her billionaire Russian ex-fiancé who was filmed fighting with her on a beach in 2016, and whom she claimed assaulted her multiple times.
Lohan seems to have left Moscow shortly after the incident, and on Monday, she was photographed walking around Paris.