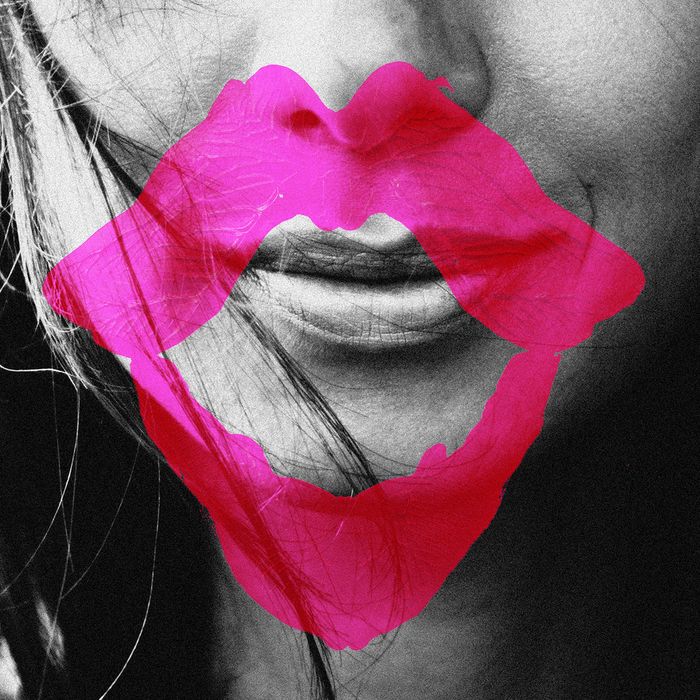 Photo: Photo Illustration by Stevie Remsberg/Photo Getty
I knew from a very young age that womanhood would be messy. In the early 1980s my beloved Aunt Beulah would visit our family in the New Jersey suburbs, and she'd bring gifts — malted milk balls for my brothers and candy lipstick for me. Heaven. I would proudly apply it to my lips, where it would inevitably bleed to my chin, my cheeks, my nose until I looked like I'd been punched in the face by the color fuchsia. I loved it.
Only after I had made myself over as a glamorous pink-faced lady would I eat the candy. Even then, my extremely unsophisticated palate could detect that it tasted like garbage, but I'd eat it all anyway. I'd feel sick afterward, choking on the chemical sweetness, but I'd also feel satisfied.
I already knew a lot about my strengths and weaknesses, at least physically. By age 5 I had dark circles under my eyes, the kind that looked like I was spending sleepless nights making lists of people who'd scorned me. Later I would learn that my precocious eye bags were what the makeup industry would call "problem areas," which meant that I would need to draw attention to my full lips, which would by default become my best facial feature.
Candy lipstick was the first dramatic lip color I could apply completely on my own, back in the days when an adult could gift a kid a cylinder of refined sugar and seem generous rather than irresponsible. The only other alternatives I had at the time were Bonne Bell glosses, but no matter how nice they smelled or how sparkly they were, they were not nearly enough to give my lips the dramatic contours I sought. It felt good to be unsubtle.
Later on in life, statement lips would become my thing; they were a quick and pleasing way to transform myself without too much hassle. I would never learn to properly apply eye makeup, and as an adult I would simply hide my eyes behind glasses. But various makeup artists at beauty counters would show me all the steps involved in applying bright red lipstick so it wouldn't bleed. There would be lots of penciling and then painting and blotting on tissues, all with the precision of a surgeon. That I still can't quite seem to color within the lines doesn't bother me — I just apply, sometimes without even a mirror, and hope for the best.
I hate that even as a child I was aware of my flaws, of how I was supposed to look and ways I could improve. But I still love the messy simplicity of lipstick. I am that woman who often has lipstick on her teeth, who leaves her straws, clothing, friend's faces, and even her dog marked with her lip marks. And then I remember Aunt Beulah herself would leave her pink lipstick on my cheek quite often, and every single time it felt like love.