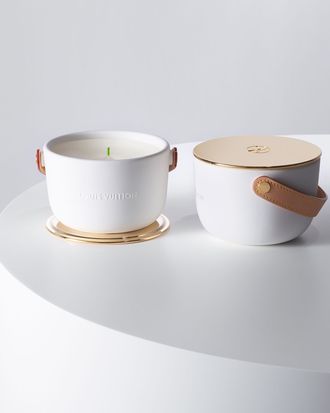 Photo: Charles Helleu/ Courtesy of Louis Vuitton
2 Chainz once requested, "If I die, bury me inside that Louis store," which I assume was partially borne out of a desire to be eternally enveloped in a luxurious Louis Vuitton scent. Master perfumer Jacques Cavallier Belletrud managed to bottle some of that in a collection of women's fragrances in 2016, and again in a men's lineup earlier this year. Now the perfumer is fully focusing on scenting entire buildings with a set of four perfumed candles for the home.
Inspired by the idea of scents wafting inside through open windows, the four candles each capture a scenic snapshot that smells really good: "The first rosebuds from the garden (L'Air du Jardin), the warm island sun steeped in a veil of white cotton (Île Blanche), scorched underbrush that permeates clothes during a walk in the woods (Feuilles d'Or), and the magic of snowflakes as they fall (Dehors Il Neige)."
In true Louis Vuitton form, the candles are stylish, too. Marc Newson designed "outfits" for them (like he did for the LV fragrances) in the form of white, handmade ceramic cases, with gold-finished metal lids which double as coasters. There are hand-painted colorful wicks for just a pop of color. Each candle even has a convenient carrying handle made in the house's signature natural leather — even that is scented through one of Belletrud's special techniques. The end result is a photogenic home scent that can also work as a purse or a perfume, depending on your wants and needs and how careful you are carrying hot wax.
The candles will retail for $185 and will be available on November 5 at select Louis Vuitton stores and at louisvuitton.com.