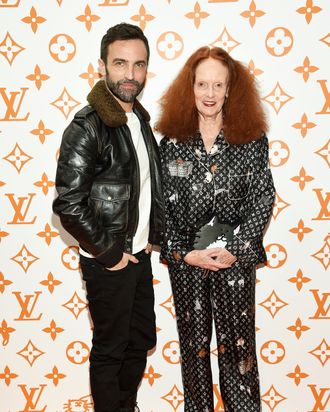 Nicolas Ghesquière and Grace Coddington.
Photo: Dimitrios Kambouris/Getty Images for Louis Vuitton
In theory, nothing is easier than wearing your pajamas as everyday clothes. You woke up like this. Why change?
Well, turns out it's not so easy to pull of the pajamas-as-clothes look in practice. It takes a certain attitude, one that says: Yes, I'm wearing pajamas. And it also takes the right pajamas. You can't just show up to the function wearing any old Long Johns. But, of course, not everyone sleeps in a perfect silk matching set.
Vogue creative director Grace Coddington does, though, and her new collaboration with Louis Vuitton is an excellent reason to attempt the look if you can.
Designed alongside Nicolas Ghesquière, Louis Vuitton's women's artistic director, the collaboration is inspired by Coddington's well-known love of cats, as well as Ghesquière's own appreciation for the fashion character that is Grace Coddington. His resort 2019 collection, for example, was inspired by her now-signature look, which, yes, includes pajamas.
Dubbed the "Catogram" collection, each piece — from pajamas to bags to bucket hats — brings together the Louis Vuitton monogram logo with illustrations done by Coddington of her two Persian cats, Pumpkin and Blanket, as well as Ghesquière's own dog, Léon. A special pop-up store in New York's Meatpacking district also features special styles like black-and-white sneakers, which are available from October 26 through November 12.
Of course, Coddington arrived to the pop-up's opening event on Thursday night wearing a silk matching set and sneakers. She even wore pajamas to the Met Gala in 2015, when she had to go straight from cocktails to the airport. (A look that was Anna Wintour's idea.) "From then on, I thought pajamas are the way to go," Coddington told Ghesquière in her new show on M2M. "It's how I'm most comfortable."
Well, Ghesquière was convinced: "We have to do a pajama collection next," he said with a laugh.