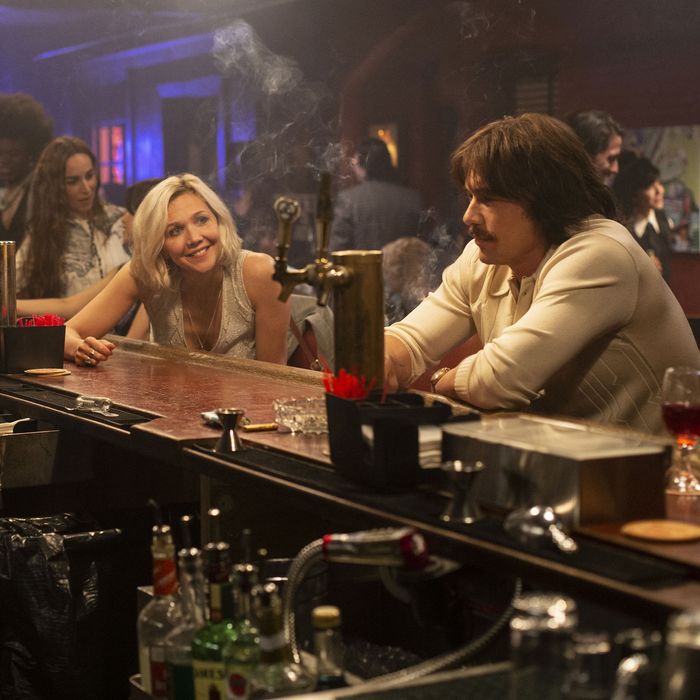 Margarita Levieva, Maggie Gyllenhaal, and James Franco on
The Deuce.
Photo: HBO
With the second season of The Deuce in full swing, actress and producer Maggie Gyllenhaal has been made to answer questions about why co-star James Franco was kept on the HBO drama after sexual-misconduct allegations against him surfaced early this year.
"You know, we at the time that the accusations against James came out in the L.A. Times we read them all, we took them very seriously," she said Tuesday on the SiriusXM show Sway in the Morning. "We spoke to every woman on the crew and in the cast to find out if they felt respected and what their experience of working with James was and everyone said that they had been totally respected by him."
In January, the Los Angeles Times published five women's allegations that ranged from Franco coercing them into oral sex to exploiting them in a work environment.
"I feel like it would've been the wrong consequence to those accusations to shut our show down. It would've been like actually the opposite of the right thing to do," Gyllenhaal "And yet, you know, look, I believe that there should be consequences for disrespecting or assaulting women. Of course, I do."
Gyllenhaal also addressed the allegations against Franco in an interview with Vulture. "I'm so not objective," she said. "I'm not the right person to talk about that except to say that neither of James's characters on the show are heroes. I would say he's walking right into the eye of the storm — he's continuing the conversation with the work that he's doing."
She also pointed to the various themes and story lines present in the The Deuce itself, which focuses on the rise of the adult-film industry in '70s New York. She plays Candy, a sex worker–turned–porn director; Franco plays twins Vincent and Frankie Martino, Bay Ridge–bred entrepreneurs who operate fronts for the mob.
"I think about our show in particular: It's about misogyny, it's about inequality in terms of gender in the entertainment business," Gyllenhaal said. "It's about the subtleties of transactional sex. And I felt that it would have been a terrible shame to stop telling that story."