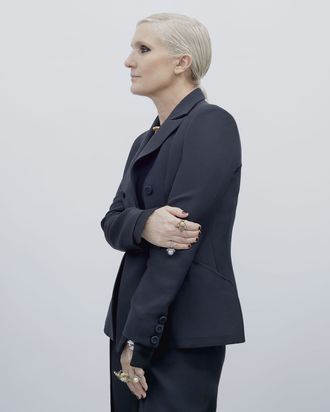 Maria Grazia Chiuri.
Photo: © NHU XUAN HUA FOR DIOR.
Two years ago, fashion designer Maria Grazia Chiuri became the first female artistic director at the house of Christian Dior, which was founded in 1946. She came from Valentino, where she started in 1999, working alongside Pierpaolo Piccioli, who is still at the helm of the brand.
For her debut spring 2017 collection at Dior, Chiuri made headlines with a headline of her own: an all-caps "We Should All Be Feminists" T-shirt inspired by Chimamanda Ngozi Adichie's book of the same title. Rihanna wore it, and it flew off the shelves.
The following year, Chiuri introduced another slogan T-shirt, this time in homage to art historian Linda Nochlin's seminal essay, "Why Have There Been No Great Women Artists?" She'd been introduced to the text by her 20-something daughter, who was studying art history at Goldsmiths in London at the time.
In an interview for New York's "Women and Power" issue, Chiuri speaks about how her daughter has opened her eyes to issues of cultural appropriation, gender politics, and the power of the fashion system today.
You're the first female artistic director at Dior. When you were appointed, where were you? How did you feel?
I was in Rome with my family. I was very proud and it was a big opportunity for me. But at the same time, I had doubts. My family house is in Rome, and so is my life. But my family immediately said I had to do it. They said, "If you want it, you have to take it. Don't worry, we can support you." So, I was very happy.
Did you have any fears going into it?
"Fear" is a big word. It was more exciting. It was exciting to have this opportunity to test myself in a new adventure. At the same time, you understand that it's a big change in your life. You are more worried about your personal life than the job. I've tried all my life to find a balance between my passions and also my loves. I knew that could be a big problem for me.
I think that's something a lot of women in power probably feel. Is there anything specific that you do to help maintain this balance?
It's something that you have to figure out for yourself. I try not to listen to other people. That's the only advice that I can give, and the only advice that I think is important to reflect.
Can you recall any big decisions you've had to make at Dior as a boss? How did you go about making these decisions?
When I arrived at Dior, everyone said that it was a "feminine brand." I said yes, of course, but we have to speak about women today. So I started my dialogue with Dior the brand, but also the audience.
What exactly does it look like to translate this traditional Dior "femininity" into feminism, or female empowerment, today?
It's important to give women a wardrobe that supports them, and allows them to be confident in themselves. Fashion has a huge responsibility: If you feel confident, you can do things well. But I don't want to impose a point of view; I want to support women.
How do you deal with criticism or conflicts at work? How do you work through that?
I think I'm very open-minded to other points of view. But at the same time, I know that I'm the artistic director, and that at the end I have to decide. I like to listen to other points of view, though, because I think dialogue is the only way to make something different, something better. I don't think that power is about one person in the office being the boss of someone. The greater power, for me, is the one I have myself in my life and my decisions.
When you were a kid, what was your idea of what a powerful woman looked like and acted like? Is that still your idea of a powerful woman?
In my life, I've been very lucky to have women who inspire me, but not famous women. Women like my mother and grandmother — women who found a way to work but also a family. They maintained their private lives but also their passions for their jobs. Now, my daughter [inspires me].
You've spoken before about how your daughter has expanded your thinking about women and power. What are some things she's taught you or exposed you to?
I've really learned a lot from her because she's another generation. When I was in my 20s, I lived in Rome in a very different way — not connected with the world.
For my generation, fashion was something playful. We didn't understand when we started working in fashion what it really could be. Now, fashion is so popular — so pop — that it has to reflect more about the world. It's very important to give the right message. In my life, for example, I never thought about cultural appropriation or gender. My daughter has helped me understand all these arguments, and that they're so important for the next generation. With her, I started to read a lot of books to improve my cultural understanding.
You included the title of Chimamanda Ngozi Adichie's book, We Should All Be Feminists, in your first Dior collection on a T-shirt. Did you ever worry about putting a monetary value on the word "feminism?" Did you think about this at all when you were making this decision?
Dior is such a huge brand that there was no need, honestly, for a T-shirt. But for us, it had a different value [than a monetary one]; it was a way to give a message. Fashion is a big platform, and Dior is so huge that's important to give this message. I really appreciate that. I remember I went to New York last year and I met a young girl with a fake T-shirt. She didn't know who Dior was, or that her T-shirt was fake; she bought it for the message. It doesn't matter if it's real or fake. I hope this message spreads, and I hope that people read the book, too. The same goes for the T-shirt about female artists. I use T-shirts to promote a message, but also books. I'm obsessed with books. Culture can help us be our best in the future.
Are there any women in fashion who you've received advice from? Or any women in fashion who inspire you?
There are many women in fashion who have my admiration. Miuccia Prada has talent and a point of view about women. I really appreciate her. Really, what she does is unbelievable. Phoebe Philo, too. She was a great designer. She did a great job. I also like some male designers! [Laughs.] They give a different point of view for women. I love Nicolas Ghesquière.
I do feel that the conversation right now is centered around designers giving women "what they want" as opposed to offering their point of view, and letting women decide whether they want it or not. Do you feel like now, more than ever, designers have to design "for women," whatever that means?
We are in a second generation. I think there used to be more designers that founded their brands. Now, everything is different. We can't speak about fashion like it was in the past. Many designers are not the owners of their brands. Nobody reflects about this, but that's a big difference: to be a part of a system when you can tell your story, but you are not the owner. You can work for a brand for a time — two years, three years, five years, ten years — but it's a time.
Would you say then that designers have a different kind of power now? That they have more of a responsibility to women? Or to their clients?
I feel a lot of responsibility. I have a son and a daughter, and I don't want to pass down the message that if you're not one way, you are not right. I think in the past, I didn't understand the power of the fashion system. The message used to be that you have to be one way. No. You have to stay true to who you are. You have to express yourself how you prefer to express yourself. We have to reflect that. We have to pay attention, because the idea that you have to be one way is not a good message. Fashion helps you describe yourself like you want. It gives you confidence. And fashion has to be fun, too.
Do you have any advice to a young woman who wants to be in your position, or any position of power?
The only message I have is to enjoy. What's the point of having power if you don't enjoy what you do? Nothing.
*A version of this article appears in the October 15, 2018, issue of New York Magazine. Subscribe Now!