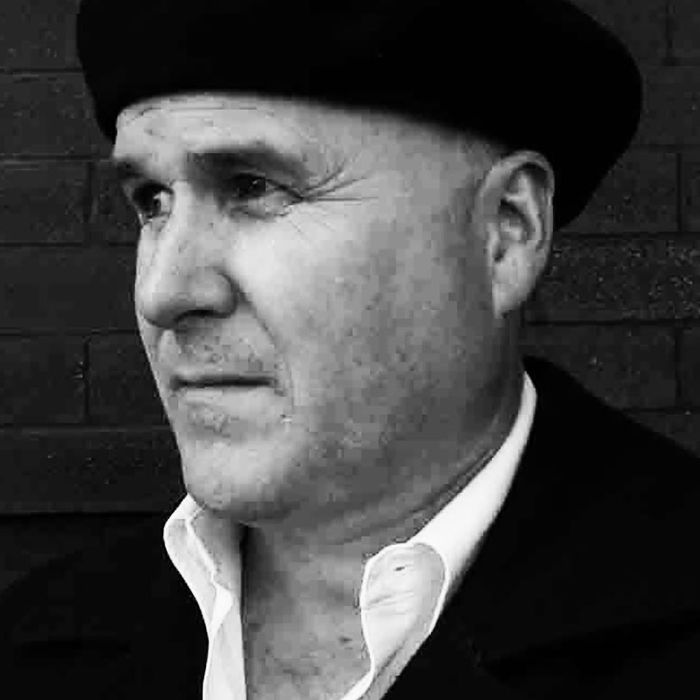 Mark Judge.
Photo: Facebook
As women have come forward with decades-old allegations of sexual assault against conservative judge Brett Kavanaugh, the Supreme Court nominee's past — from his old acquaintances to his partying to his relationship to Judge Alex Kozinksi's, his former mentor whom several women accused of sexual misconduct — has come under intense scrutiny. One character from his early life whose name has been popping up with some regularity is Mark Judge, a conservative writer who Christine Blasey Ford claims was in the room when Kavanaugh sexually assaulted her in the 1980s, and whose reputation seems to only have worsened the more we've gotten to know about him.
Despite this, Republican Senate Judiciary Committee Chairman Chuck Grassley has not called on Judge to testify about Ford's allegations — a move that has come under criticism. Grassley has said that there's "no reason" for Judge to testify, arguing that Judge told the committee in a letter that he has "no memory" of the alleged sexual assault. His critics have argued that the Republicans simply chose to believe Judge, not Ford.
Below, here's everything we know so far about Judge.
He went to the same high school as Kavanaugh.
Judge and Kavanaugh were in the same class at Georgetown Preparatory School, a private all-boys Catholic school in North Bethesda, Maryland. According to the Washington Post, they both graduated in 1983.
While both men have kept relatively mum about their relationship to one another in high school, one of Kavanaugh's accusers, Julie Swetnick, recalled them as being "joined at the hip."
Christine Blasey Ford says Judge was in the room when Kavanaugh allegedly sexually assaulted her.
Ford claims that at a party in Montgomery County in 1982, Kavanaugh and Judge — both of whom were "stumbling drunk" — led her into a bedroom, where the former allegedly held her down and "fumbled with her clothes"; meanwhile, Ford claims that Judge was standing across the room, where he "laughed maniacally" and turned up the music to down out her cries. Per her account, Judge then decided to jump on Ford and Kavanaugh twice, which toppled over the latter and helped Ford free herself. (Both men have denied the allegations.)
During Ford's opening statement to the Senate Judiciary Committee on Thursday, she further detailed the night of the alleged sexual assault, and claimed that she thought Judge might intervene. "Mark was urging Brett on, although at times he told Brett to stop," she said. "A couple of times I made eye contact with Mark and thought he might try to help me, but he did not."
"Both Brett and Mark were drunkenly laughing during the attack," she said. "They both seemed to be having a good time." Later, during questioning, she told Senator Leahy, "Indelible in the hippocampus is the laughter. The uproarious laughter of the two, and their having fun at my expense … I was underneath one of them while the two laughed. Two friends having a really good time together."
Ford also claimed during her testimony that she saw Judge once after the alleged assault, while he was working at the Potomac Village Safeway. In Judge's memoir Wasted: Tales of a Gen X Drunk, he writes about how he "spent a few weeks working as a bag boy in a local supermarket" between his junior and senior year of high school — so, 1982.
In his 1997 memoir about his struggle with alcoholism, Judge mentions a "Bart O'Kavanaugh" character who passes out drunk and vomits in a car.
Judge seriously struggled with alcoholism and later recovery in his teenage years, about which he wrote in his second memoir, Wasted. In the book, he described the blackout drinking culture that existed at his high school, and tells of an anecdote involving a person named "Bart O'Kavanaugh," who "puked in someone's car" and "passed out on his way back from a party."
He has disturbing opinions about sexual assault and masculinity.
In his writing over the past few years, Judge has suggested that revealing clothes can lead to rape, praised men who know how to be "the boss" with their wife, and celebrated the beauty of "uncontrollable male passion."
In a 2016 blog post praising male passion, he wrote: "There's also that ambiguous middle ground, where the woman seems interested and indicates, whether verbally or not, that the man needs to prove himself to her. And if that man is any kind of man, he'll allow himself the awesome power, the wonderful beauty, of uncontrollable male passion."
He allegedly admitted to "taking turns" having sex with a drunk girl.
Judge has claimed that "no horseplay" occurred at the Georgetown Prep parties he attended; however, new revelations from his ex-girlfriend Elizabeth Rasor suggest Judge wasn't being honest.
In an interview with The New Yorker, Rasor says that Judge "told her ashamedly" about an incident in which he and other boys took turns having sex with an intoxicated woman. He seemed to think it was consensual when he recounted the encounter, she said, and she approached the magazine because she could no longer "stand by and watch him lie" about his school's party culture. (Judge "categorically denies" Rasor's account.)
Approximately an hour after the report was published, attorney Michael Avenatti claimed in a tweet that he had "significant evidence" that Kavanaugh, Judge, and other boys would "participate in the targeting of women with alcohol/drugs in order to allow a 'train' of men to subsequently gang rape them."
Julie Swetnick claims Judge was present when she was gang-raped in high school.
On September 26, attorney Michael Avenatti released a sworn declaration from his client Julie Swetnick, the third woman to allege Kavanaugh engaged in sexually abusive behavior when he was in college. While Swetnick does not explicitly accuse of Kavanaugh or Judge of raping her, she claims that the two men "[caused] girls to become inebriated and disoriented so they could then be 'gang raped' in a side room or bedroom by a 'train' of numerous boys." Her declaration continues:
In approximately 1982, I became the victim of one of these "gang" or "train" rapes where Mark Judge and Brett Kavanaugh were present. Shortly after the incident, I shared what had transpired with at least two other people. During the incident, I was incapacitated without my consent and unable to fight off the boys raping me. 
He's currently hiding in a beach house in Delaware.
Following the advice of his lawyer, Judge left D.C. and has been staying at a longtime friend's house in Bethany Beach in an attempt to avoid the media, the Washington Post reports.
"How did you find me?" he demanded of the reporter, who reportedly gestured to his car in the driveway, which was filled with Superman comic books, piles of clothing, and a package.
He declined to comment further. But according to his lawyer, Barbara "Biz" VanGelder, skipping town was her idea.
"He is being hounded. He is a recovering alcoholic and is under unbelievable stress," she said. "He needed for his own health to get out of this toxic environment and take care of himself."
He said he "never saw Brett act in the manner Dr. Ford describes" after the Kavanaugh hearings.
Judge avoided the Thursday hearing in front of the Senate Judiciary Committee, where Ford delivered a heartbreaking testimony and Kavanaugh threw a petulant tantrum. Afterward, though, he sent a letter to Grassley and Feinstein, claiming that he does "not recall the events described by Dr. Ford in her testimony before the US Senate Judiciary Committee today."
He continued: "I never saw Brett act in the manner Dr. Ford describes."
In the letter, he also responded to the criticism over his failure to testify, saying that he avoids pubic speaking because "as a recovering alcoholic and a cancer survivor, [he has] struggled with depression and anxiety."
But he said will cooperate with an FBI probe of Ford's sexual -assault allegations.
After several senators, and notably Jeff Flake, called for a one-week delay on the Senate vote to allow for an FBI investigation into the allegations against Kavanaugh, Judge's lawyer told CNBC that he "will answer any and all questions posed to him."
On October 1, per a statement released by his lawyer, Judge "has been interviewed by the FBI but his interview has not been completed."