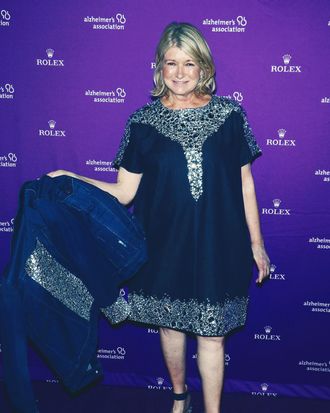 Martha Stewart.
Photo: Jim Spellman/Getty Images
Martha Stewart, a crafts icon, has found a new and inventive way to get political this midterm season. Bedazzling! She debuted a pair of Aerosoles with the word "VOTE" emblazoned across each sandal strap at the Alzheimer's Associations Rita Hayworth Gala on Tuesday night.
She posted about the shoes on Instagram, writing, "What better way to send the most important message!"
Ever the savvy business woman, she also made sure to share the rest of her outfit details from the night, making sure to tag the brands in the caption. "Get up! Get out ! Vote! Election Day is right around the corner I am wearing these shoes with my diamond emblazoned denim shift and jacket from Martha Stewart."
These denim and tan sandals are not the first shoes she's personalized. She unforgettably once told an audience that she used sharpie to cover the red on the bottom of her Christian Louboutin shoes.
She told People at the Hayworth Gala that she secured each faux-diamond onto the sensibly comfortable shoe herself. She also shared more about what inspired her to make the statement with her footwear.
"We're voting for what we want and need and everybody should do it," she said. "The more of us that turn out to vote, the more of us will get what we want and need."
Well, she's certainly figured out a trendy, shiny way to get her political message across as well as to pull off sandals in mid-October. Can she bedazzle "VOTE" on one of her giant tote bags next, please?