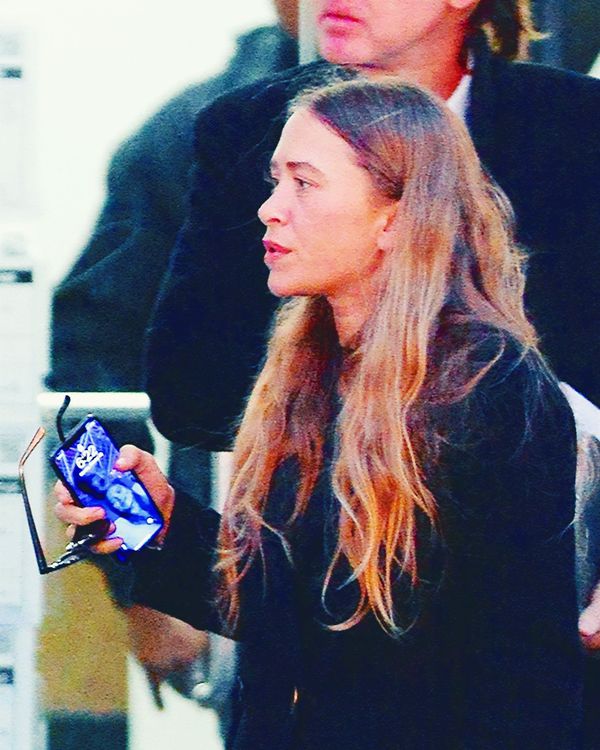 Mary-Kate Olsen.
Photo: ROKA/BACKGRID
Never in a million years would we say that Mary-Kate and Ashley Olsen are "just like us." They exist on another plane entirely — one where everything from coffee to clothing is oversize, where fabrics are softer than soft, and where cigarettes somehow don't kill you.
Yes, the Olsen sisters are exceptional in many ways, as celebrities and as style icons. But while out in New York City on Monday, Mary-Kate proved that she might actually be kinda normal? Maybe even — dare I say it — AVERAGE???
The Olsens were photographed waiting for a car to whisk them off to some place that is no doubt better than wherever you are or have ever been. In the photo, Ashley wears metallic Nike Cortez sneakers with a large, fuzzy coat from the Celine pre-fall 2018 collection (the last by Phoebe Philo), demonstrating for the millionth time that the Olsens should have taken over the brand. Meanwhile, Mary-Kate has opted for a more casual black blazer.
But that's not what's notable here. Caught in the photo is a flash of Mary-Kate's phone background, which features an insanely adorable photo in which she's smiling with her husband, Olivier Sarkozy. She married the now-49-year-old back in 2015, with a wedding that was as cool as you can possibly imagine.
Based on the lighting of the photo, it seems that the couple took a selfie while attending a concert or a wedding together. Or maybe they were court-side at a Knicks game, or the U.S. Open. Or maybe they have blue lighting in their home. Or maybe they just have a moody, blue-ish aura around them at all times. Who's to say? I have no idea, because Mary-Kate Olsen is definitely not, by any stretch of the imagination, like me. Despite her plebean phone background.