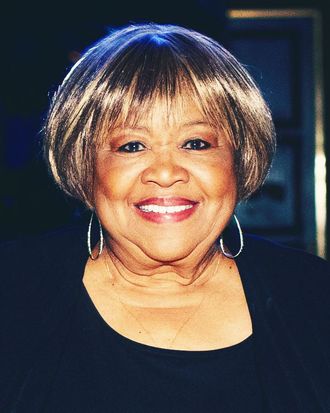 Mavis Staples.
Photo: Tiffany Sage/BFA/REX/Shutterstock
Next time you're wondering how to accept a compliment or an accolade, turn to Mavis Staples for inspiration. The legendary blues singer was honored with a lifetime achievement last night at the 2018 National Art Awards. When she accepted her golden balloon-dog award (designed by Jeff Koons, of course), she said, "I don't mean to sound conceited, but I deserve this." The crowd of art people chuckled.
Of course, it's not conceited and Staples does deserve it. She started her career as part of the Staple Singers, and over her career has been inducted into the Rock and Roll Hall of Fame, honored at the Kennedy Center, and toured with Bob Dylan (who once planned to marry her). She was honored at the National Art Awards along with choreographer Justin Peck, revolutionary filmmaker Ai Weiwei, artist John Baldessari, philanthropist Ann Ziff, and the Alliance for Young Artists & Writers. Baldessari's famous piece "I Will Not Make Any More Boring Art" served as a digital backdrop for the awards show. So good messages all around, really.