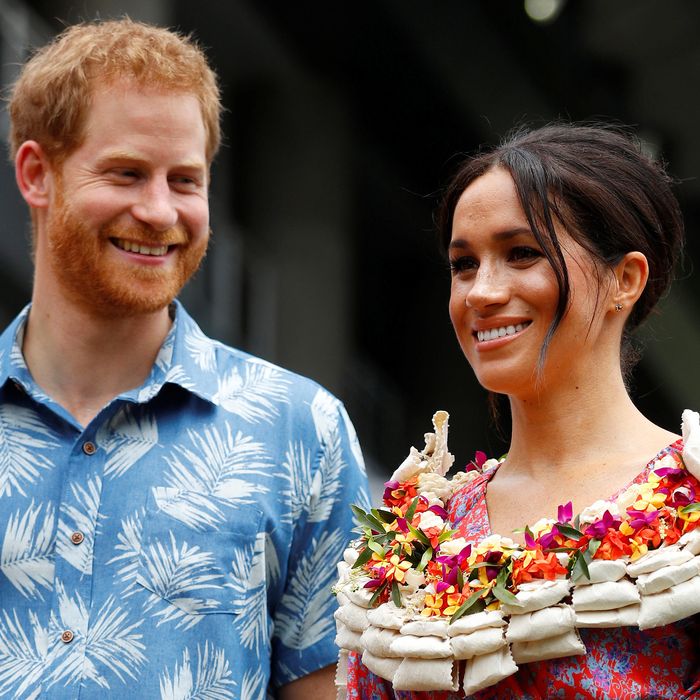 Prince Harry and Meghan Markle.
Photo: PHIL NOBLE/Getty Images
Prince Harry and Meghan Markle took a well deserved night to themselves on their royal tour of Fiji, New Zealand, Tonga, and Australia. The Mirror reports that the Duke and Duchess of Sussex reportedly stayed on the 800-acre private Kaibu Island — located off the coast of Fiji — for a night.
They stayed at Vatuvara, a luxury resort with three villas that "offers conscientious luxury to the discerning traveler, with an exclusive experience." That experience includes amenities like "dramatic vistas," an "infinity edge pool," "endless tropical views," and yoga and massages offered in each villa. Just typing that out was relaxing — the resort will definitely be a great place to continue being affectionate.
After countless obligations, which included Meghan's first speech as a royal, many great outfits, and a sharing circle, this was the couple's first night off. Right before their trip began, they announced that they are expecting a baby. Meghan is due sometime in the spring of 2019 (Prince Harry hopes it will be a girl). Their night on the island follows a few changes to their royal schedule following the news of the pregnancy.
Meghan skipped out on a scheduled Invictus Games appearance, reportedly because she needed some time to rest. She had earlier shared that being pregnant felt like jet lag, and that she sometimes woke up in the middle of the night, restless. The couple also announced that they would be postponing their tour of the United States, because the trip is scheduled around the time of her due date.
If it wouldn't be too much to ask, could @KensingtonRoyal please share photos of some of those dramatic vistas to their page? Living vicariously is easier with a visual aid.